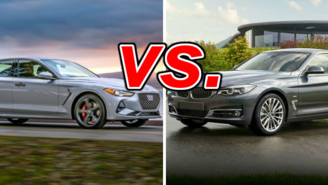 Hyundai spun off its Genesis brand into its own lineup just a few years back, and its latest offering, the G70, is a force. This Kia Stinger-based luxury sports sedan has all the power and class it needs to compete against the big boys, but how does the Genesis G70 stack up against one of the best in the biz, the BMW 3-Series? Keep reading to find out.
See a side-by-side comparison of the G70 & 3-Series »
What the 3-Series Gets Right
The BMW 3-Series kicks off with its stunning, simple design that's made it a force in the luxury segment for decades. Look up "luxury compact sedan" in the dictionary, and you're bound to see the 3-Series' face. Beyond its looks, buyers also have several body styles to pick from, including a versatile wagon.
The BMW 3-Series' wide range of powertrain options is another shining feather in its cap. Sure, some are less powerful than the G70, like its base 180-horsepower, four-cylinder engine and 180-hp diesel option, but it makes up for that with its 248-hp upgraded four-cylinder, 246-hp hybrid powertrain, and 320-hp 3.0-liter six-cylinder.
Those looking for fuel economy in their compact luxury sedan will find the entire 3-Series lineup is efficient. Its base 2.0-liter gets an up to 23 miles per gallon city, 33 mpg highway, and 27 combined, according to the EPA. Moving to the optional diesel engine pushes fuel economy to 31/43/36 mpg (city/highway/combined). Go to the 330e hybrid and get 14 miles of electric range, 30 mpg combined, and 71 miles per gallon of gasoline equivalent. At its best, the G70 gets 22/30/25 mpg.
What the G70 Gets Right
The Genesis G70 starts its battle boasting a stunning new look in the luxury sports sedan segment that will grab a few eyeballs. Inside, the G70 is equally stunning with its quilted leather, sporty steering wheel, and floating infotainment screen. It does a great job shedding its Kia Stinger roots to be a legit luxury competitor.
The Genesis G70 also rings in with more peak power across the board. Its base 2.0-liter engine delivers 252 horsepower with a price that matches the 180-hp 3-Series. Ratchet up to the twin-turbo 3.3-liter V6 engine and get a 365-hp monster that beats all 3-Series models without an "M" in their name.
While the base G70's 3-Series-matching price may turn some buyers off, there's a lot of value in the G70's base trim as it comes standard with premium features the BMW lacks. These include LED daytime running lights, 18-inch wheels, a power trunk lid, a 12-way power driver's seat, an eight-way power passenger seat, and much more.
Willing to Sacrifice Brand? Go G70
The Genesis brand is still working to separate itself from its Hyundai and Kia relative, like Lexus and Infiniti a few generations ago. But what you lose in brand recognition you gain in features, power, and style. So, if you're willing to skip the BMW Roundel in favor of the Genesis wings, you can get some serious bang for your buck.
Verdict: BMW 3-Series
Look, it's hard enough for established luxury automakers to keep pace with BMW, so the fact the Genesis G70 kept the competition as close as it did should be a win for the Korean brand. But in the end, the 3-Series wins with its iconic styling, high-quality cabin, plethora of drivetrain options, and much more.
Take a closer look at the Genesis G70 »
Take a closer look at the BMW 3-Series »