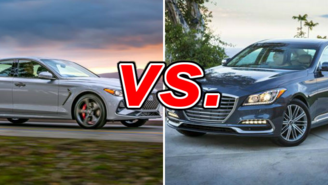 With the release of the smaller and nimbler G70, Genesis now has a complete line of luxury sedans to compete with BMW, Mercedes-Benz, and Audi. But how does this smaller Genesis G70 stack up against its middle sibling, the Genesis G80? Continue reading to find out.
See a side-by-side comparison of the G70 & G80 »
What the G70 Gets Right
With a starting price of $35,895, the 2019 Genesis G70 kicks off with a huge $7,150 price advantage over the larger 2019 G80. Buyers can use that cash to add options to dress up their G70 or pocket the cash for extra savings.
Buyers who are into the sportier-looking side of the luxury-car realm will appreciate the G70. It rolls in based on the stunning Kia Stinger but with a shorter wheelbase and modified styling to better fit the luxury segment. Inside, it's a nice mixture of sport and luxury with the quilted-leather surfaces, floating infotainment system, and a sporty-looking steering wheel.
The G70 not only looks the sporty part, but it plays that role well with its smaller platform making great use of its optional 365-horsepower, 3.3-liter V6 engine. Plus, its handling is more precise, allowing it to tackle corners like a pro.
What the G80 Gets Right
The Genesis G80 is a classic luxury sedan to its core. It's large, comfortable, fast in a straight line, and rides like you're on a cloud. Its exterior forgoes any of the sportiness that's forced its way into the luxury segment and replaces it with sleek lines that mimic luxury rigs of yesteryear. Inside, the all-luxury looks continue with well-padded seats, an expansive dashboard, and all the upscale materials a buyer could ever want.
The Genesis G80's laundry list of standard features is impressive, too. Its standout standard features include an eight-inch infotainment system with navigation, Apple CarPlay and Android Auto, a seven-speaker stereo, heated front seats with 12-way adjustability on the driver's side, bi-xenon headlights, and a rearview camera. There are loads of options to dress this rig up even further, too.
Under its hood, the Genesis G80 has an engine for every type of buyer, starting with its standard 311-hp, 3.8-liter V6. Moving up to the twin-turbocharged 3.3-liter V6 pushes output to 365 hp, while the range-topping 5.0-liter V8 thumps out 420 horses. This all routes through an eight-speed automatic transmission for smooth acceleration.
Finally, the Genesis G80 comes standard with all the IIHS' favorite safety gadgets, including forward collision warning with automatic emergency braking, blind-spot monitoring with rear cross-traffic alert, lane keeping assist, adaptive cruise control, active head restraints, and nine standard airbags including a driver's knee bag. It had no problem earning the IIHS Top Safety Pick Plus designation.
Sports Sedan Lovers Will Want the G70
The G70 cannot hang with its big brother, but it has a target demographic that'll gobble it up en masse. These are buyers who care more about performance than luxury, and the G70's better power-to-weight ratio and superior handling meet those requirements perfectly.
Verdict: Genesis G80
The Genesis G70 remains the punching bag of its older brother, the G80, this year. With its comfortable ride, loads of engine options, and legitimate luxurious ambience, the Genesis G80 has tons to offer at an incredible price. Even more established premium brands struggle to outdo it.
Take a closer look at the Genesis G80 »