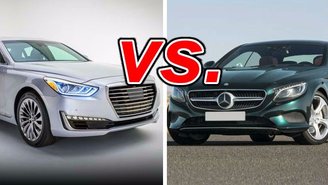 The flagship of Hyundai's new luxury division, the Genesis G90 takes aim at Europe's top-tier sedans without asking a top-tier price. It brings the essential qualifications for that fight, plus a lower price than any of its intended competitors.
To test the G90's viability in this league, we're studying how it stacks up against the stalwart Mercedes-Benz S550, arguably the king of this high-dollar segment. How well does the G90 fare against the benchmark of this class?
See a side-by-side comparison of the G90 & S550 »
What the G90 Gets Right
Like the S550, the G90 is a V8-powered full-size sedan with rear-drive architecture and optional all-wheel drive, although the Genesis sets distinguishes itself with a more affordable, twin-turbocharged V6 model. Every comfort and safety feature in the Genesis arsenal comes standard — all you have to worry about is the color. The 5.0-liter V8 produces 420 horsepower and 383 pound-feet of torque, while the 3.3-liter, twin-turbo V6 generates a more modest 365 hp and 376 lb-ft of torque. Both engines work with an eight-speed automatic transmission and are available in standard rear-wheel drive or optional all-wheel drive.
The G90 pampers its passengers with a remarkably smooth – but detached – ride and indulgent interior appointments, especially in the rear. In terms of quietness and comfort, the G90 gives up nothing to higher-priced rivals. The feeling of sublime isolation makes it a thrifty alternative to firing up the corporate jet.
What the S550 Get Right
Walking up to the S550 feels a lot like visiting a national monument. It's a car of undeniable presence that's inspiring to look at and expensively detailed inside and out – the cabin is dollar-for-dollar one of the most beautiful on the market. There's also an advanced array of semi-autonomous driving systems available as an optional extra.
The twin-turbo 4.7-liter V8 delivers 449 horsepower. A nine-speed automatic transmission is new this year. The standard adaptive air suspension produces a supple ride befitting the most luxurious series from Mercedes-Benz. We especially like the available Magic Body Control feature, which uses a front camera to evaluate upcoming road surfaces and then adjusts the suspension accordingly. The result is a sedan that's virtually impervious to road imperfections.
Does the G90 Measure Up?
The G90 lives up to its luxury claim with an avalanche of standard features and sterling ride quality. But its twin-turbo V8, the S550 isn't only faster, but it really feels it. And there's that splendid interior. But is that enough to justify the $26,000 gulf between the most affordable G90 and the least expensive Mercedes?
Our Verdict: Mercedes-Benz S550
The S550's sheer prestige and mouth-watering finery make it worth the extra investment.
Take a closer look at the Genesis G90 »