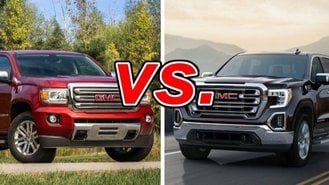 GMC's pickup truck lineup revolves around its midsize Canyon and full-size Sierra 1500. The GMC Sierra 1500 received a full redesign in 2019 and added a new turbodiesel powertrain for 2020. The versatile GMC Canyon, meanwhile, soldiers along with a design largely unchanged since 2012.
Is the new Sierra 1500 worth the price premium? We took a look to find out.
See a side-by-side comparison of the GMC Canyon & the GMC Sierra 1500 »
What the Canyon Gets Right
As the smaller entrant, the GMC Canyon's biggest advantage is value. In most body and powertrain configurations, it's nearly $9,000 cheaper than a Sierra 1500.
The Canyon's powertrains are less powerful than those in the Sierra 1500, but they do their job admirably well. Most buyers will opt for the 3.6-liter V6, which cranks out 308 horsepower and still costs the same as an entry-level Sierra 1500.
The Canyon may have the older design, but updates have kept things contemporary inside and out. The inside has the same excellent 7-inch infotainment system as the Sierra 1500, and the exterior's squared-off design makes it (to our eyes) the statelier of the two.
What the Sierra 1500 Gets Right
In the world of pickups, size brings power. The GMC Sierra 1500 is no exception, offering more powerful engines (including multiple V8 options) that the Canyon can't match. Configured carefully, the Sierra 1500 will tow up to 11,000 pounds, while the Canyon maxes out at 7,700.
The Sierra 1500's size also brings a spacious cabin and more bed configurations. Especially with a Crew Cab, the Sierra 1500 is more capable for family duty.
With its 2019 update, the Sierra 1500's architecture is substantially newer than the Canyon's. It gets a newer and more powerful turbodiesel engine, although it's an expensive upgrade.
Finally, although the Sierra 1500 is the more expensive truck, its range is wider. It can be a basic work truck, but the Denali trims are more worthwhile here than on the Canyon. There's more customizability in the mid-range as well — for buyers looking to buy full-size, the Sierra 1500 covers almost all bases.
Paying for Size
These trucks share many strengths and weaknesses (neither is an ace in the safety department), but they're fundamentally different vehicles. The Sierra 1500 brings extra cabin space, more body configurations, and beefier powertrains. For those privileges, it charges a premium – one we bet many buyers are willing to pay.
Our Verdict: GMC Sierra 1500
The Canyon is a versatile truck, but the new GMC Sierra 1500 has the edge in most departments. Buyers who don't need a full-size truck will be happy with the Canyon's value, but for either workhorse or luxury duty, the Sierra 1500 pulls ahead.
Take a closer look at the GMC Canyon »