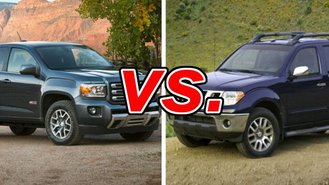 The GMC Canyon is back after a three-year absence in totally new form. This time around, GMC hopes to raise the bar on the midsize pickup market, something its predecessor didn't come close to doing. The long-running Nissan Frontier outsold the original Canyon by a mile and retains a loyal customer base. Does the new GMC threaten the Frontier's supremacy in this league?
See a side-by-side comparison of the Canyon & Frontier »
Where the Canyon Shines
The reborn Canyon takes its styling cues from the brand's full-size Sierra, which was redesigned just last year. The family resemblance works in the Canyon's favor, making it appear more expensive than it really is. Ride and handling are far more civilized than you might expect in a truck of this size, and the interior is light years ahead of the trucky ambience of the previous generation.
The standard 2.5-liter four-cylinder engine produces 200 horsepower, which should be enough for everyday driving and light hauling. The available 3.6-liter V6 provides a massive boost to 305 horsepower and allows the Canyon to tow up to 7,000 pounds.
See more truck comparisons here »
Where the Frontier Shines
The Frontier has proven its toughness and reliability over the long haul, a key reason why so many buyers keep coming back to it. Off-road enthusiasts will find a lot to like about the Pro-4X version, which performs magnificently in the wild. The Frontier's available bed extender can make it a credible alternative full-size pickups that cost more and use more gas.
Like the Canyon, the Frontier comes standard with a 2.5-liter four-cylinder, although output is more modest at 152 horsepower. The optional 261-horsepower 4-liter V6 gives the Frontier the ability to tow up to 6,500 pounds.
Is the GMC's redo enough?
The Canyon isn't what it used to be, and that's a good thing. It deserves this year's prize for most improved player. The Frontier is as capable as ever, but its virtues are no longer sufficient to rule the market.
Our Verdict: GMC Canyon
The new Canyon has succeeded in raising our expectations of smaller pickups.
Take a closer look at the GMC Canyon »