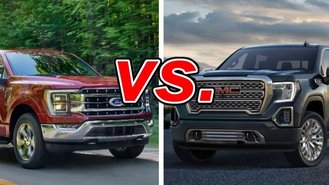 In the full-size pickup world, the Ford F-150 casts a big shadow over competitors. For decades, it's played the role of the leader in terms of sale and popularity in the U.S. Ford recently introduced a fully redesigned F-150 with an available hybrid powertrain, improved towing capacity, more tech features, and innovative features like an on-board generator. Clearly, Ford knew what it had to do to ensure the F-150 remained a leader.
The GMC Sierra 1500 has cemented its place in the segment as an upscale full-size pickup with innovative technology that makes it easy to tow large cargo. Get into the right trim and the Sierra 1500 feels like a real luxury car instead of a capable work truck.
Which pickup truck deserves a spot on your driveway? That's what we'll answer in this comparison.
See a side-by-side comparison of the Ford F-150 & the GMC Sierra 1500 »
What The Ford F-150 Gets Right
If you require a pickup truck with some serious towing capability, you'll want to look at the F-150. It offers up to 14,000 pounds of towing capacity, which bests the Sierra 1500's figure of 11,800 pounds. The F-150 also offers more payload capacity than the Sierra 1500, boasting a figure of up to 3,325 pounds – 1,075 pounds more than the GMC.
While both pickups come with easy-to-use infotainment systems, the F-150 has the edge, as it comes with more impressive tech features. The F-150 can be fitted with a massive 12-inch touchscreen that makes the Sierra 1500's available unit that measures 8 inches look tiny.
When it comes to powertrains, the F-150's is more robust and offers a wider range for consumers to choose from to find their perfect truck. The powertrain that stands out is the newly available hybrid that includes a twin-turbocharged 3.5-liter V6 and an electric motor that makes 430 hp and 570 lb-ft of torque. This powertrain produces more power than anything that the Sierra 1500 offers.
What The GMC Sierra 1500 Gets Right
With the Sierra 1500, GMC has really focused on features that will make the truck more usable for owners. The pickup truck is available with GMC's Multi-Flex tailgate that offers a wide range of functions, including a gate load stop, a full-width step, an inner gate load stop, and a work surface. The multi-function tailgate is a major benefit for consumers that expect to use their pickup on a job site.
Pickup trucks are some of the few vehicles that continue to be available with V8 engines. In the V8 war, the Sierra 1500 comes out on top. The pickup is available with a 6.2-liter V8 that makes 420 horsepower and 460 pound-feet of torque. The F-150's available 5.0-liter V8 is rated at 400 hp and 410 lb-ft of torque. If you want a V8 in your pickup, the one that GMC offers is better.
GMC offers the Sierra 1500 with a nifty 15-camera system that brings a unique transparent trailer view. For drivers that want some assistance when towing, this is a feature that changes the game.
Want Helpful Features For Work?
The GMC Sierra 1500's main calling cards are its handy tech features and available multi-function tailgate. It's easy to look at the tailgate and smirk, but it's truly a one-of-a-kind feature that will make things so much easier for owners.
Our Verdict: Ford F-150
The redesigned Ford F-150 closes the gap to the GMC Sierra 1500 when it comes to luxury and comfort, but also raises the bar when it comes to towing and technology. It's truly a well-rounded option that can do it all. There's a reason why the F-150 is the sales king.
Take a closer look at the Ford F-150 »