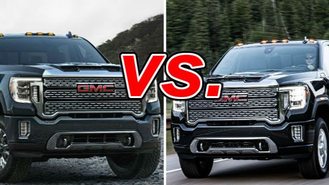 When shopping for a heavy-duty pickup, GMC has a few options in the Sierra 2500HD and the Sierra 3500HD. Both are incredibly capable with massive towing and payload capacities, but one is sure to fit you better than the other.
Continue reading to find out if the GMC Sierra 2500HD or the GMC Sierra 3500HD is the better option for you.
See a side-by-side comparison of the Sierra 2500HD & Sierra 3500HD »
What the Sierra 2500HD Gets Right
The GMC Sierra 2500HD gets a quick leg up with its $37,195 starting price, which is $1,200 cheaper than the 3500HD.
Though it's cheaper, the Sierra 2500HD's powertrain options mirror those of its larger sibling. This lineup starts with a 6.6-liter V8 with 401 horsepower and 464 pound-feet of torque. Buyers seeking more power can opt for the 6.6-liter turbodiesel V8 with 445 hp and 910 lb-ft of torque.
Because it's not quite as focused on towing and payload as the Sierra 3500HD, the Sierra 2500HD's softer chassis offers a more compliant ride, making it a better option for long commutes.
What the Sierra 3500HD Gets Right
The GMC Sierra 3500HD is a rugged pickup ready to tow a barn if needed. In its single-rear-wheel format, it boasts a 21,500-pound gooseneck towing capacity and a 20,000-pound conventional towing capacity. These numbers beat the Sierra 2500 by 2,990 pounds and 1,500 pounds, respectively. Its payload capacity checks in at 4,217 pounds, which is 502 pounds more than the 2500HD.
The Sierra 3500HD also has an optional dual-rear-wheel setup. This dually model pushes its gooseneck towing capacity to a massive 31,760 pounds, which is 13,250 pounds more than the 2500HD. This makes it great for hauling a loaded horse trailer or even a car-transport trailer.
Got a Big Trailer? Get the Bigger Rig
The GMC Sierra 3500HD may not be an ideal option for commuters, but buyers who tow a massive trailer or haul tons of payload frequently will love its stronger chassis. This heavy-duty pickup gives them all the power they need to pull just about anything.
Our Verdict: GMC Sierra 2500HD
There's no doubting heavy-towing buyers need the 3500HD, but the average heavy-duty pickup shopper can get the job done with the Sierra 2500HD. Plus, its softer chassis delivers a better ride for those long commutes, making it the better overall option.
Take a closer look at the GMC Sierra 2500HD »