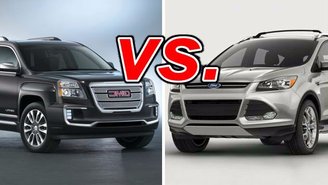 Buyers continue to warm up to compact crossovers—you might even say the market is red-hot. As sales figures confirm, plenty of drivers across the spectrum are looking for healthy cargo space and car-like drivability in a reasonably efficient package.
The GMC Terrain and Ford Escape deliver those basic ingredients in two different personalities. The GMC aims for grown-up comfort and style, while the Ford pursues technology and agility.
Which approach impresses us more?
See a side-by-side comparison of the Escape & Terrain »
The Case for Terrain
The Terrain is styled along the lines of larger models in the GMC family, but its substantial appearance is more than just clever design. It's large for this class and weighs more than most competitors. The result is a smooth, hushed ride and solid feel that will remind you of more expensive vehicles, especially when it's equipped with the available 301-horsepower 3.6-liter V6. Even so, the base four-cylinder features active noise cancellation, so all Terrains cruise quietly.
The GMC's wide stance produces commendable hip and shoulder room for all passengers. The rear seat can slide forward to increase cargo space or back to provide more legroom. That feature alone could make buyers think twice about the need for a larger crossover.
The Case for Escape
The current Escape started gaining praise from the moment it debuted for the 2013 model year. Along with expressive styling inside and out, the Ford boasts responsive handling and overall nimbleness that make it a very satisfying daily driver. High-quality materials are deployed throughout the cabin, and the sweeping dashboard is exceptionally attractive and functional. The Escape is the one of the few compact crossovers to offer an automated parking system and a hands-free power tailgate.
Fuel economy is quite good with any of the three available four-cylinder engines. The top choice, a 240-horsepower
2-liter turbo, eliminates the need for a thirstier V6.
Luxury or Sport?
If we had to pick just one thing to like about each of these crossovers, we'd point to the Terrain's passenger-pleasing comfort and the Escape's energetic performance. Buyers should sample both virtues before deciding which is more important to them.
Our Verdict: Ford Escape
Refined and athletic, the Escape sits at the top of this class.
Take a closer look at the Ford Escape >>