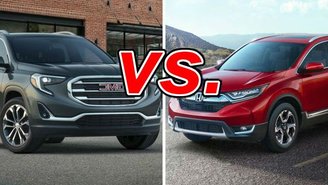 The next-generation GMC Terrain has hit the streets, complete with three new engines, better efficiency, and more adventuresome styling. It's a formidable competitor to Honda's spacious CR-V, which itself received a complete redesign just last year.
Both vehicles are proof that compact crossovers just keep getting more attractive to buyers. But does the new Terrain have what it takes to overtake a family favorite like the CR-V?
See a side-by-side comparison of the Terrain & CR-V »
What the Terrain Gets Right
The Terrain has always been on the larger end of this class, with a substantial feel and traditional American ride qualities. That part of the package hasn't changed at all. The Terrain excels as a comfortable cruiser for five passengers. Behind the rear seat is 29.9 cubic feet of cargo space, which grows 63.5 cubic feet with it folded. Available safety and infotainment systems have been updated to meet the demands of tech-conscious buyers.
The engine roster starts with a 1.5-liter, turbocharged four-cylinder that delivers 170 horsepower and 203 lb-ft of torque. Last year's six-speed automatic transmission continues as standard. With front-wheel drive, the Terrain is EPA-rated at 28 miles per gallon in combined city and highway driving. All-wheel drive versions are rated at 26 mpg combined.
The previously optional V6 — which pushed the bounds of efficiency for this class — has been replaced by a 2.0-liter, turbocharged four-cylinder with 252 hp and 260 lb-ft of torque. Working in concert with a nine-speed automatic, the 2.0-liter delivers an estimated 25 mpg combined, or 24 mpg with all-wheel drive.
For hybrid-like efficiency, GMC offers a 1.6-liter, turbodiesel four-cylinder that produces 137 hp and 240 lb-ft of torque. The engine allows the Terrain to achieve 32 mpg combined, even when equipped with all-wheel drive.
What the CR-V Gets Right
Like the Terrain, the CR-V concentrates on passenger comfort, especially when it comes to room and ride. It's an excellent long-distance traveler, despite taking up no more space than a compact sedan. Even with all seats occupied, the CR-V can swallow 39.2 cubic feet of cargo. Capacity expands to 78.5 cubic feet with the rear seat folded, the highest rating in this class.
The CR-V comes standard with a 2.4-liter four-cylinder that produces 184 hp and 180 lb-ft of torque. Efficiency matches the base engine in the Terrain at 28 mpg combined, according to the EPA.
Most models are powered by a 1.5-liter, turbocharged four-cylinder that's good for 190 hp and 179 lb-ft of torque. The turbo is rated at 30 mpg combined. We consider this a superb balance of power and efficiency.
Every CR-V uses a continuously variable automatic transmission (CVT). The optional all-wheel drive system reduces efficiency ratings by one mpg.
Does the CR-V still deserve all the sales it gets?
No compact crossover offers more space for people and things than the CR-V — and it's at least above average in all other areas. It's hard to imagine anyone being dissatisfied with a proposition like that.
Buyers who preferred the huskiness and style of the old Terrain will appreciate this one all the more. We see it succeeding in the marketplace, but not necessarily by stealing sales from the CR-V.
Our Verdict: Honda CR-V
The CR-V comes closer the mark of family-vehicle perfection.
Take a closer look at the GMC Terrain »