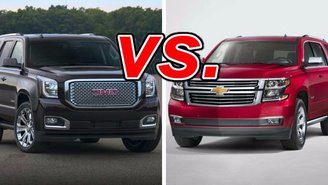 GM's full-size SUV twins, the GMC Yukon and Chevrolet Tahoe, have a lot in common: platform, body, running gear, and just about everything else that counts. Some might say that the GMC is a tad more exclusive, and the Chevy a little more all-American. But aside from perceptions, what's the real difference? Let's find out.
See a side-by-side comparison of the Yukon & Tahoe »
What the Yukon Gets Right
The Yukon is a traditional SUV built on a truck platform, which means you get towing capacity and off-road ability similar to a full-size pickup. The 5.3-liter V8 provides a mighty 355 horsepower and 383 pound-feet of torque. All models come fully equipped for family life, and you can take the Yukon into luxury territory with loads of available infotainment and comfort upgrades, plus every safety feature known to this class.
At the very top of the lineup is the Yukon Denali, which carries a 6.2-liter V8 with 420 horsepower, and GM's Magnetic Ride Control suspension for increased comfort and stability. GMC borrows both of these features from the Cadillac Escalade. The Denali also receives a honeycomb grille, brushed aluminum interior trim, and other exclusive touches.
What the Tahoe Gets Right
Predictably, the Tahoe offers the same level of performance and capability as the Yukon. You'll notice that the Chevy costs a bit less at each trim level because some tech features are optional rather than standard. Even so, everything GMC sells on the Yukon is available with the Tahoe, except the Denali's 6.2.-liter engine and signature styling bits. The line-topping Tahoe Premiere features Magnetic Ride Control and its own distinctive trim, though it's not intended to match the Denali's bling.
The Deciding Factor
If you're looking for anything less than a top-of-the-line model, there's no objective difference between these two. For most buyers, the choice comes down to ancillary things like dealer selection and brand affinity. However, if you want all the power and prestige you can get, the Yukon Denali is the obvious choice. It's a compelling alternative to luxury-branded SUVs costing thousands more.
Our Verdict: GMC Yukon
With all else equal, the Yukon scales up to a level the Tahoe can't reach.
Take a closer look at the GMC Yukon »