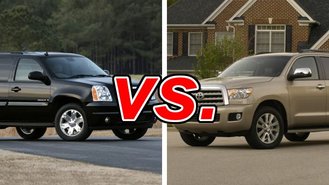 It's a simple fact that crossovers make more sense for family hauling than their ancestor, the traditional SUV. As this realization takes hold in the minds of consumers, most truck-based SUVs are switching to passenger-car platforms or being allowed to fade away.
See a side-by-side comparison of the Yukon & Sequoia »
The biggest and most powerful examples from the old school, like the GMC Yukon and Toyota Sequoia, are still with us for one reason, however: they do what no crossover can.
Which of these stalwarts is better at proving that only the strong survive?
Where the Yukon Excels
Thoroughly redesigned for 2015, the Yukon carries a 5.3-liter V8 that produces 355 horsepower and returns 23 mpg on the highway, well above average for this class. The Yukon's passengers -- up to nine of them -- are effectively isolated from road imperfections and operating noise. When the task turns to hauling cargo instead of people, the GMC offers 95 cubic feet of space and a towing capacity of 8,500 pounds.
Top-of-the-line Denali models offer a comfort-tuned suspension and extra sound insulation in addition to trim and equipment upgrades. Buyers also get a 420-horsepower 6.2-liter V8 sourced from the more expensive Cadillac Escalade.
Where the Sequoia Excels
The Sequoia packs a 380-horsepower 5.7-liter V8 that propels the heavy hauler from zero to 60 mph in 6.7 seconds, downright fast for anything so massive. Towing capacity tops out at 7,400 pounds.
Like the Yukon, the Sequoia features an independent rear suspension, which provides confident handling and enhanced cargo volume. The third-row seat folds completely into the floor, allowing for 67 cubic feet of space, or a whopping 121 with all seats folded -- all of this happens at the touch of a button in Sequoias at upper trim levels.
How it Shakes Out
The Sequoia takes the honors for acceleration and cargo space, while the Yukon wins on towing ability and passenger comfort. We're also impressed by the GMC's relative efficiency in a class where buyers are willing to tolerate depressing mileage.
Our Verdict: GMC Yukon
The Yukon delivers the right blend capability and comfort for most buyers.
Take a closer look at the GMC Yukon »