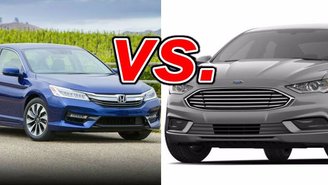 The Honda Accord is one of the leaders in the hybrid sedan class. Refreshed for 2017, the Accord Hybrid offers impressive quality and technology.
The Ford Fusion continues its successful line of hybrid models. The Fusion Hybrid remains one of the best midsize hybrid sedans on the market.
Does the Fusion Hybrid have what it takes to top the accomplished Accord Hybrid?
See a side-by-side comparison of the Accord Hybrid & Fusion Hybrid »
What the Accord Hybrid Gets Right
The Honda Accord Hybrid comes equipped with a 2-liter, four-cylinder engine, as well as a twin electric motors, and a lithium ion battery pack. All together, the Accord Hybrid produces 212 horsepower. The hybrid is rated at 48 mpg in combined city and highway driving, one of the highest ratings in this class. The Honda is filled with advanced technology, like Apple CarPlay, a rearview camera, and LED lighting. As for safety, the Accord holds one of the highest safety ratings on its class. Safety options include adaptive cruise control and collision warning systems.
What the Fusion Hybrid Gets Right
The Fusion Hybrid comes equipped with a 2-liter four-cylinder engine, which works alongside an 88-kW electric motor. The Ford Fusion's exterior has become extremely iconic, and it continues to feature a long, smooth, and slick shell. The Fusion Hybrid comes equipped with 17-inch wheels, a rearview camera, and the SYNC infotainment system. For a bigger price tag, you can get leather upholstery, exterior LED lighting, adaptive cruise control, and lane departure warning. The line-topping Platinum comes equipped with a collision mitigation system, a heated steering wheel, and more.
Does the Fusion Match the Accord's Talents?
The Fusion delivers everything buyers in this class need, but so does the Accord, along with a touch more efficiency and performance.
Our Verdict: Honda Accord Hybrid
As in previous years, the Honda Accord Hybrid is one of the most advanced, most efficient hybrids sedans on the market.
Take a closer look at the Honda Accord Hybrid >>