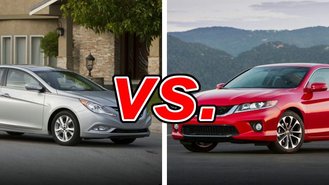 The Honda Accord has been chipping away at the automotive block since 1976 and has always been a dominant force in the midsize realm. This gives it a 13-year head start on the Hyundai Sonata.
See a side-by-side comparison of the Accord & Sonata »
Hyundai was busy fighting some quality and image issues in the first few decades of the Sonata's life, but in recent years, the gap between the Sonata and the Accord has steadily narrowed. Can the Sonata pull off the unthinkable and knock the Accord from its midsize pedestal?

What the Honda Accord Gets Right

The Accord was fully redesigned in 2013, and current models sport an aggressive look that builds on the last generation's design language. The Accord also bucks its habit of generational weight gain -- the latest iteration is smaller, lighter and more nimble than the last one.

Under the hood, the Accord soldiers on with two familiar engine options. The base 2.4-liter four-cylinder engine now features direct injection, which gives it 185 horsepower in most trims and 189 horsepower in its Sport trim. Honda tuned the 3.5-liter V6 engine to 278 horsepower. Despite the power hikes, the Accord still produces impressive fuel economy numbers with the 2.4-liter peaking out at 30 mpg combined and the V6 going as high as 25 mpg combined. Additionally, the Accord features a standard rearview camera and an 8-inch display.

What the Hyundai Sonata Gets Right

With its fresh redesign for 2015, the Hyundai Sonata is now a class-leader in both style and economy. With this new model, the Sonata shed its demure image and embraced a bolder frame and higher-class personality. Unsurprisingly, buyers have taken notice.
The Sonata may not have the Accord's loyal fan base, but the quality features it offers could be enough to make up for its shorter road to success. The Sonata is a gas-sipper at the pump, even though its 2.4-liter four-cylinder engine puts out 185 horsepower. It also offers a high-performance 2-liter turbocharged engine in the Sport 2.0T model. In addition to a wide selection of standard comfort and convenience features, the Sonata comes with a killer 10 year/100,000-mile powertrain warranty.

Has Hyundai Made Progress?

The short answer: yes. The Sonata continues to get better and better. With this latest redesign it gives the Accord a serious run for its money.

Our Verdict: Honda Accord

When it comes to overall quality and resale value, the Hyundai simply doesn't stack up to the Accord. Additionally, the lack of a V6 option makes the top-level Sonata a little more high-strung than some buyers would like.
Take a closer look at the Honda Accord »