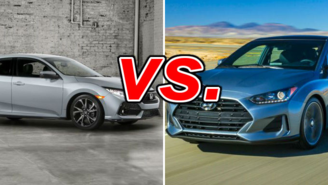 Compact vehicles like the Honda Civic and the Hyundai Veloster continue to be popular for obvious reasons. They're both affordable, fun to drive, versatile, and fuel efficient. Both even have sporty variants that will appeal to enthusiasts. The Veloster is all new for its second generation, while the Civic received various changes for 2019. Are there any more differences that will have you leaning toward one option over the other?
See a side-by-side comparison of the Civic & Veloster »
What the Civic Gets Right
The Honda Civic is the more complete package, being offered in numerous body styles. There's the Civic Coupe, Hatchback, and Sedan. The Veloster is only available in a hatchback body style. And while the Veloster's asymmetrical, three-door design adds some extra ease of use and an interesting design, it can't compete with the Civic when it comes to availability of body styles.
When it comes to fuel economy, the Civic also gets the nod. When equipped with the available turbocharged 1.5-liter four-cylinder engine, the Civic sedan achieves an EPA-estimated 32 miles per gallon city, 42 mpg highway, and 36 combined. The most fuel-efficient Veloster with the turbocharged 1.6-liter four-cylinder gets 28/34/30 mpg (city/highway/combined).
Hyundai is set to introduce a Veloster N in the near future, but for the moment, the Civic Type R is the more powerful option when it comes to enthusiasts. The hot hatchback has a turbocharged 2.0-liter inline-four that pumps out 306 horsepower. The most powerful Veloster generates 201 hp.
What the Veloster Gets Right
The Hyundai Veloster is the more affordable vehicle. Pricing for the 2019 Veloster starts at $19,385, while the Civic is a little pricier with a starting price tag of $20,345 (prices include destination). The prices for the Civic, though, are for the sedan body style. The Civic Hatchback is more expensive, as it starts at $22,345.
Just because the Veloster is the more affordable model doesn't mean it doesn't come with a lot of features. Standard equipment includes automatic headlights, LED daytime running lights, heated side mirrors, a seven-inch touchscreen, Apple CarPlay and Android Auto, and a 3.5-inch TFT instrument cluster.
Is the Civic Still King?
The new Veloster gets really close to being the ultimate package, as it's fun to drive, comes loaded with a ton of features, and is affordable. The Civic, though, is available in three body styles, is more fuel efficient, and, for the moment, offers a high-performance model that packs a wallop.
Our Verdict: Honda Civic
The Honda Civic is still the option to beat in the compact segment, and when it comes to comparing it to the Hyundai Veloster, the Civic is the winner. It may be more expensive, but the Civic offers excellent value in a recipe that's tough to beat.
Take a closer look at the Honda Civic »