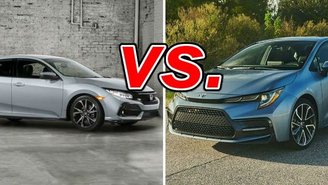 The Honda Civic is back for another year of wooing buyers with its good looks, efficiency, and array of trim choices. The Civic competes for the distinction of best-selling compact sedan with the Toyota Corolla, which has been redesigned for more engaging performance and style. Which enduring favorite deserves a closer look in our view?
See a side-by-side comparison of the Civic & Corolla »
What the Civic Gets Right
Every Honda Civic now comes with Honda Sensing, a bundle of safety technology that includes lane keeping assist, adaptive cruise control, and automatic emergency braking.
Handling is quick and confident with the standard suspension, and ride quality ranks at the top of this class. Although most buyers prefer the handsome sedan, coupe and hatchback versions are still offered.
The base 2.0-liter four-cylinder engine makes a solid 158 horsepower and 138 pound-feet of torque. A six-speed manual transmission is available on the base trim, but most Civics run with a continuously variable transmission (CVT). The 2.0-liter motor and CVT setup achieves an EPA-estimated 30 miles per gallon city, 38 mpg highway, and 33 combined.
The optional 1.5-liter turbocharged engine equips the Civic with 174 hp and 162 lb-ft of torque. The CVT comes standard with this engine. Along with a boost in performance, buyers can look forward to efficiency ratings of 32/42/36 mpg (city/highway/combined).
The sporty Civic Si model gets a high-output version of the 1.5-liter with 205 hp and 192 lb-ft of torque, along with suspension upgrades and larger brakes. A short-throw six-speed manual transmission is available on the Si in addition to the CVT.
What the Corolla Gets Right
Longtime Toyota Corolla owners will be pleasantly surprised by the redesigned model's expressive styling and seriously upgraded interior. There's plenty to like under the skin as well, like two new engines and a tighter body structure.
There's no such thing as a basic Corolla anymore. Even the cheapest model comes with standard features that usually cost extra in this class, including adaptive cruise control, lane keeping assist, automatic high beams, and Apple CarPlay.
The Corolla lineup starts with a 1.8-liter four-cylinder engine that develops 139 hp and 126 lb-ft of torque paired to a CVT. This combo is rated at 30/38/33 mpg.
Buyers in search of sprightly performance can now find it in the Corolla. The available 2.0-liter four-cylinder produces 169 hp and 151 lb-ft of torque. Efficiency actually improves to 31/40/34 mpg.
How Close Are They?

Today's Toyota Corolla is far livelier than any of its predecessors. It can even get scrappy with the optional engine – and looks good doing it, inside and out. The Honda Civic already had those attributes, and now adds more standard equipment to the mix. It still has to contend with the Corolla's sterling reputation, which counts for a lot when plunking down your own money.
Our Verdict: Honda Civic
The sophisticated Honda Civic always manages to edge out the competition, no matter how improved it is.
Take a closer look at the Honda Civic »