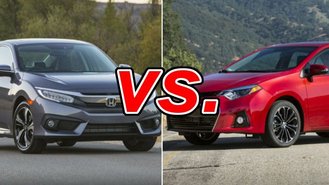 These two legendary vehicles have been around for decades and have set the standard for other vehicles in their class. Currently entering its 10th generation, the Honda Civic enjoys a loyal following—many of whom have owned several Civics during their lifetime. The eleventh-generation Toyota Corolla is equally admired by its fan base.
See a side-by-side comparison of the Civic & Corolla »
Reliability and dependability have made strong sales numbers a tradition for both these models and continually enhanced designs consistently attract new buyers.
What the Toyota Corolla Gets Right
Toyota continues to increase the premium features available with the Corolla, and now offers bi-LED headlights and a standard rearview camera on the base-level L trim. Also adding value to the Corolla are its standard Entune infotainment system and Bluetooth connectivity.
New for 2017 is the Corolla iM, a hatchback that was once known as the Scion iM. This model helps the Corolla match the newfound versatility of the Civic hatchback.
See more sedan comparisons here »
What the Honda Civic Gets Right
The Civic's new look is still fresh and continues to push the bounds of styling for its class. Its Accord-esque front end and fastback rear end are breaths of fresh air in an otherwise stagnant segment.
The Civic is also one of the more potent models in its class, as its base 2-liter engine peaks at 158 horsepower and its optional 1.5-liter turbo hits 174 horsepower. Those who go with the hatchback also have the option of a 1.5-liter turbo engine with 180 horsepower in the Sport Touring model.
Finally, the Civic is not only more potent than the Corolla, it is also more fuel efficient than even the Corolla Eco thanks to its 35 mpg combined rating.
The Corolla is Still a Great Buy
The Corolla, while not quite up to the challenge of taking on the new and more responsive Civic, is still a great buy. Its lower starting price allows budget-conscious buyers to add a few more premium features without killing the budget. What's more, its inheritance of the Scion iM's hatchback body style was timed perfectly with the Civic hatchback.
Our Verdict: Honda Civic
The 10th generation Civic pushes the model to a whole new level of style, while its to potent four-cylinder engines add some zippy performance to match the good looks.
Take a closer look at the Honda Civic »