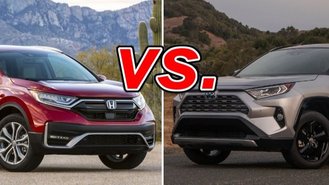 Compact crossovers hit the sweet spot for a broad swath of American buyers, offering fine versatility and reasonable efficiency at a family-friendly price. To bolster the efficiency part, Honda now gives buyers the option of hybrid power in its top-selling CR-V.
The Honda CR-V Hybrid comes in response to the Toyota RAV4 Hybrid, which has been steadily populating driveways for five years now. How does the Toyota stack up against its latest rival from Honda?
See a side-by-side comparison of the CR-V Hybrid & RAV4 Hybrid »
What the CR-V Hybrid Gets Right
The Honda CR-V Hybrid retains all the comforts of its gas-powered sibling. Passengers can look forward to spacious accommodations and a smooth, quiet ride. Rear head and leg room are particularly generous, making three-across seating a reality for adults.
The large rear quarter windows and efficient interior packaging give an open, airy feel to the whole affair. When it comes to cruising, the CR-V Hybrid outshines just about everything in this class.
The CR-V Hybrid is only slightly cheaper than the RAV4 Hybrid. A base CR-V Hybrid is $350 cheaper than the base RAV4 Hybrid.
What the RAV4 Hybrid Gets Right
Like to CR-V Hybrid, the Toyota RAV4 Hybrid is powered by a four-cylinder gas engine and a pair of electric motors. Output is similar, but a slight edge goes to the RAV4 Hybrid's 219 horsepower compared to the CR-V Hybrid's 212 hp.
Both come standard with all-wheel drive, but the RAV4 Hybrid pulls ahead in efficiency with EPA ratings of 41 miles per gallon city, 38 mpg highway, and 40 combined. The CR-V Hybrid comes in at 40/35/38 mpg (city/highway/combined).
In gas-powered form, the CR-V tops the RAV4 in cargo capacity, but the opposite is true of their hybrid versions. The RAV4 Hybrid offers 37.6 cubic feet of space behind the rear seat, and 69.8 cubic feet with it folded. The intrusion of the CR-V Hybrid's battery pack limits its capacity to 33.2 cubic feet with the seat up, or 68.7 cubes with it flat.
Which Excels As A Hybrid?
The CR-V Hybrid makes the transition to hybrid power with its comfort and passenger room largely intact. Its other claim to fame, cargo-carrying ability, takes a noticeable hit that's bound to disappoint some buyers. The RAV4 Hybrid requires no such compromise and squeaks past the CR-V Hybrid in overall efficiency, the main reason for going hybrid.
Our Verdict: Toyota RAV4 Hybrid
Whereas the CR-V Hybrid has been adapted to hybrid technology, it seems like a natural fit for the RAV4 Hybrid. With more power, space, and better fuel economy, it's the winner in this comparison.
Take a closer look at the Honda CR-V Hybrid »