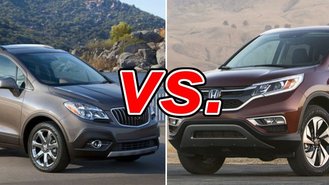 Since the economy took a downturn and fuel prices started to climb, buyers stopped buying as many large SUVs as they once did, instead opting for smaller crossovers that allowed a similar level of storage and kid-carrying capability but in a more efficient package.
See a side-by-side comparison of the CR-V & Encore »
The Honda CR-V was an early pioneer of this trend. In the midst of a bottom-to-top corporate makeover, Buick has now introduced its smallest crossover to date, the Encore. Can Buick's new kid in town topple the old dog?
What the Honda CR-V Gets Right
There are three available models, the LX, the EX and the EX-L, all of which have front-wheel and all-wheel drive versions. Only one engine is available, though, a 2.4-liter four-cylinder making 185 horsepower and 181 pound-feet of torque. Paired with the CVT, the CR-V achieves a combined fuel efficiency rating of 29 mpg, which is great for a crossover. The Honda is sure-footed in poor conditions, so that trip to the grocery store in the snow won't seem quite as stressful.
What the Buick Encore Gets Right
The Encore comes with a choice of four option groups: the Standard, Convenience, Leather and Premium. As with the Honda, all trim levels can be had in front-wheel or all-wheel drive. The 1.4-liter turbocharged four-cylinder engine produces 138 horsepower and is the smallest engine ever put into any Buick. Paired with the six-speed automatic transmission, the Encore achieves as much as 25 mpg city and 33 mpg highway.
Can Buick's New Kid In Town Topple The Old Dog?
While the Encore is a spirited driver and a comfortable ride, important factors such as engine power and interior space are lacking when compared to the CR-V.
Our Verdict: Honda CR-V
Don't get us wrong, the Encore is a fun little car and a step in the right direction for a company that's trying to give itself a facelift, but its meager engine and small interior is no match for the CR-V. Perhaps Buick will improve on its efforts or offer an engine upgrade in the future, but for now, the old dog keeps the house.
Take a closer look at the Honda CR-V »