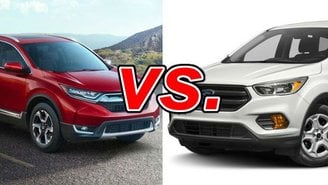 The Honda CR-V was one of the originators of the compact-crossover movement, but the Ford Escape wasn't far behind it. Since their debuts, both the CR-V and Ford Escape have seen their fair share of updates, but they both remain popular models in a class that is all about balancing capabilities with comfort and maneuverability.
Which one of these small people haulers hits that sweet spot the best? Keep reading to find out.
See a side-by-side comparison of the CR-V & Escape »
What the CR-V Gets Right
Having recently gone through a redesign, the CR-V rolls in with a more modern look that is toned down but still attractive, whereas the Escape looks a little too rental-lot-like for some buyers. This continues inside, where the CR-V boasts a roomy and stylish cabin. Speaking of roomy, the CR-V boasts 40.4 inches of rear-seat leg room, crushing the Escape by 3.6 inches. Plus, it features 39.2 cubic feet of cargo room with the seats up and 75.8 with the seats folded – this is 4.9 and 8 cubes better than the already-roomy Escape, respectively.
The CR-V's base 2.4-liter engine and its 1.5-liter turbocharged engines outmuscle the Escape's base and mid-level engines by 16 horsepower and 11 hp, respectively. Comfort is incredible across the entire trim range in the CR-V, but the EX and higher trims take it to a new level with highly adjustable front seats and premium leather. Plus, the fit and finish is virtually perfect.
What the Escape Gets Right
The Escape starts $250 cheaper than the CR-V, leaving a little wiggle room to lower your payments a bit. Plus, the simpler styling of the Escape may appeal to some. Inside, the Escape Intuitive Sync infotainment system is not distracting and has a manageable learning curve.
Under its hood, the Escape's optional 245-hp 2.0-liter engine offers a level of performance the CRV just cannot match. This engine pairs well with the Escape's above average handling, making it better in the corners than the CR-V.
Looking for More Pep? Go With the Escape
Ford did what it could to keep pace with the CR-V, but it's just a bit much for the Escape can handle. That said, the Escape's 2.0-liter engine option gives buyers a level of performance the CR-V can't come close to.
Verdict: Honda CR-V
With its near-perfect combination of power, fuel economy, roominess and cargo-hauling capability, it is hard to find a compact crossover better than the CR-V.
Take a closer look at the Honda CR-V »