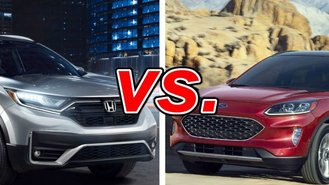 Compact crossovers are among the most popular vehicles on showroom floors, as they combine the drivability of a sedan with the usefulness of an SUV.
Ford is throwing itself nearly 100% into the crossover space, as it slowly discontinues all passenger cars not named Mustang, leaving only pickups and crossovers. Ford showed its commitment with an all-new Escape for the 2020 model year.
The Honda CR-V has been slightly refreshed for the 2020 model year itself. It added more standard safety features and a standard turbocharged engine to keep up with the times.
Can the all-new Escape dethrone the older but still insanely popular CR-V? Continue reading to find out.
See a side-by-side comparison of the CR-V & Escape »
What the CR-V Gets Right
Inside, the Honda CR-V is one of the roomiest crossovers in the compact class with 40.4 inches of rear leg room. It also has 39.2 cubic feet of cargo room with the rear seats upright and 75.8 cubes with the rear seats folded, beating the Escape by 1.7 and 10.4 cubes, respectively.
The CR-V also has a notably high-class interior with plenty of upscale plastics, soft-touch materials, and more. This is especially true in its range-topping Touring model, which borders on the luxury class.
The CR-V's 1.5-liter turbocharged four-cylinder engine delivers 190 horsepower, which is 10 higher than the Escape's base 1.5-liter three-cylinder.
What the Escape Gets Right
The Ford Escape gets a jump on the CR-V with its unique lifted-hatchback design that's all-new for 2020. This sleek look may not be for everyone, but it certainly stands out in a crowd.
Under its hood, the Escape's optional 2.0-liter turbo four-cylinder pumps out 250 hp. With this powertrain, the Escape delivers a sub-seven-second 0-60 mph time and up to a 3,500-pound tow rating.
Buyers looking for thriftiness can opt for the Escape Hybrid, which delivers an EPA-estimated 41 miles per gallon combined. There's also a plug-in hybrid in the works with an estimated 30-mile electric range, but it's not available yet. The upcoming CR-V Hybrid delivers just 38 mpg combined.
Bigger Families May Need the CR-V
The Honda CR-V is a great option for shoppers who do a lot of hauling, thanks to its massive cargo area and spacious interior.
Our Verdict: Ford Escape
The Ford Escape pulls off a narrow win over the CR-V thanks to its powerful and efficient powertrain options and unique styling. Otherwise, these compact crossovers are very similar.
Take a closer look at the Honda CR-V »