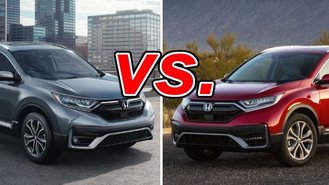 Buyers continue to flock to the Honda CR-V for its utility, efficiency, and features for the price. This blend of virtues has made the CR-V one of the dominant compact crossovers on the market. To keep the sales ball rolling, Honda now gives CR-V buyers the option of hybrid power. Has the regular CR-V been eclipsed by the new Honda CR-V Hybrid version?
See a side-by-side comparison of the CR-V & CR-V Hybrid »
What the CR-V Gets Right
As legions of buyers already know, the Honda CR-V excels in sheer interior volume. Three can fit comfortably in the back seat with 39.2 cubic feet left over for cargo. With the seat folded, there's 75.8 cubic feet of space to work with – excellent capacity for this class. The CR-V Hybrid is just as comfortable for passengers, but the battery pack takes the luster off storage space, which shrinks to 33.2 cubic feet behind the rear seat and 68.7 with it folded. That's not a huge difference, but it'll become apparent when there are bags to load.
The gas-powered CR-V costs $2,700 less across every trim level, or $1,200 less when equipped with all-wheel drive, which is standard on the hybrid model. That's a meaningful price advantage, especially for buyers who don't need AWD.
What the CR-V Hybrid Gets Right
The CR-V Hybrid is powered by a four-cylinder gas engine and a pair of electric motors. Total output is 212 horsepower and 232 pound-feet of torque, which are healthy figures for this class of vehicle. The turbocharged four-cylinder used in the regular CR-V produces a more typical 190 hp and 179 lb-ft.
The CR-V Hybrid is EPA-rated at 40 miles per gallon city, 35 mpg highway, and 38 mpg combined. As expected, the regular CR-V can't match those numbers. It's rated at 28/34/30 mpg (city/highway/combined), or 27/31/29 mpg with all-wheel drive.
What Matters More?
When it comes to power and efficiency, you get more of both with the Honda CR-V Hybrid. The advantage isn't dramatic by any means and comes at a price, but buyers will notice the difference. Now, are you willing to trade those advantages for more cargo space and some money left over in your pocket? If so, the standard CR-V still rules the day.
Our Verdict: Honda CR-V
The benefits of hybrid power aren't so great in a vehicle that's already as efficient and versatile as the Honda CR-V. There's a reason it's a big seller every year. The CR-V is capable, practical, and refined.
Take a closer look at the Honda CR-V »