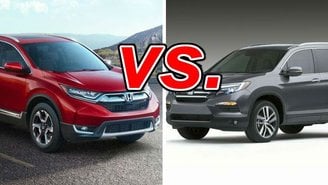 Honda serves up family-friendly crossovers in two sizes, the compact-but-spacious CR-V and the eight-passenger Pilot. Both are efficient for their class and designed for maximum cargo space, which probably explains why they sell so well.
All things considered, does the CR-V make more sense, or is the larger Pilot a better all-purpose crossover?
See a side-by-side comparison of the CR-V & Pilot »
What the CR-V Gets Right
The CR-V has the same footprint as a compact car, but that's where its smallness ends. The airy interior does a fine job of accommodating five passengers, with excellent headroom all around. It's easy to relax in the CR-V, thanks to low noise levels and a supple suspension biased toward ride quality.
Even with a full crew aboard, there's room for 39.2 cubic feet of cargo. With the rear seat folded, load space expands to 78.5 cubic feet. That's more than any other compact crossover and a few midsize ones as well.
Base models carry a 2.4-liter four-cylinder that produces 184 hp and 180 lb-ft of torque. The EPA rates the CR-V at 28 miles per gallon in combined city and highway driving, which is above average.
All other trims get a 1.5-liter, turbocharged four-cylinder with 190 hp and 179 lb-ft of torque. At 30 mpg combined, the turbo delivers a terrific balance of power and efficiency.
Both engines come with a continuously variable automatic transmission, and can be paired with all-wheel drive, which reduces efficiency by just one mpg.
What the Pilot Gets Right
In some crossovers, the third row seems like an afterthought. The Pilot is not one of them. Three passengers can fit all the way in back without a struggle, boosting seating capacity to eight (or seven with the optional second-row captain's chairs). Behind the third row, there's a trunk-like 16.5 feet of space, plus a stowage compartment under the floor. Cargo room grows to 46.8 cubic feet with the third row folded, and 83.9 cubic feet with both rows out of the way.
Every Pilot comes with a 3.5-liter V6 that produces a stout 280 hp and 262 lb-ft of torque. The upper trims get a nine-speed automatic transmission, while the rest make do with a six-speed automatic. The Pilot is EPA-rated at 22 mpg in combined driving with the standard automatic, and 23 mpg with the nine-speed. The optional all-wheel drive system lowers these ratings by one mpg, but also allows the Pilot to tow up to $5,000 pounds. For such a capable vehicle, the Pilot is remarkably efficient.
Is Bigger Better?
The CR-V and Pilot share their key virtues – room, ride, efficiency. For those who need it, the Pilot throws in a usable third row, some extra cubes of space, and a potent V6 engine. The CR-V counters with a base MSRP that's about $6,000 lower and the easy maneuverability of a compact.
Our Verdict: Honda Pilot
The Pilot's impressive capability more than offsets its higher price.
Take a closer look at the Honda CR-V »