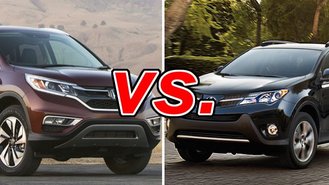 Perennially among the top-selling compact SUVs in the U.S., the Honda CR-V and the Toyota RAV4 offer buyers many similar features. While lists of standard equipment are not identical, they both include most of the items that consumers look for in family-oriented vehicles. Cargo capacity? Nearly the same, with the RAV4 edging out the CR-V by about 3.5 cubic feet. Ease of driving? Both get good reviews for agile steering and ease of parking. Is there anything that sets one of these SUVs apart? We take a look to find out.
See a side-by-side comparison of the CR-V & RAV4>>
What the Honda CR-V Gets Right
Among the features owners like in the CR-V is its easy convertibility from a five-passenger vehicle with some cargo space to a two-passenger vehicle with a lot of cargo capacity. The rear seat comes equipped with an auto-fold mechanism that lowers the seat back with just a flip of a lever in the cargo bay. Inside the cabin, there are also numerous storage spots, including a front-seat center console large enough to hide a large purse.
Parents ferrying children to school and activities also appreciate the CR-V's overall five-star rating in government crash tests, along with Honda's long-standing reputation for reliability.
What the Toyota RAV4 Gets Right
Toyota gave the RAV4 a makeover in 2013 and added several of the newest safety technologies, including blind-spot warning and rear cross-traffic warning systems as available options on the top Limited trim level.
The redesign also switched the rear door to a liftgate and added a height-adjustable version as standard on the Limited trim.
Which Is Better?
These two SUVs are so similar that what makes one of them seem better to a buyer may boil down to brand preference. Some reviews say that the RAV4 still feels a bit more truck-like than the CR-V, so city drivers may prefer the Honda – although both handle urban driving with ease. On the other hand, the RAV4 offers some newer technology than the CR-V, as well as an available JBL sound system with 11 speakers.
Our Verdict: Honda CR-V
Honda's reputation and the company's ability to give most consumers exactly what they want propels the CR-V to the top.
Take a closer look at the Honda CR-V >>