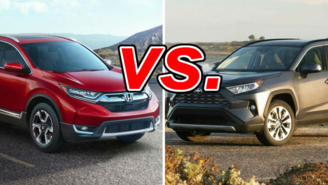 The Honda CR-V has earned a reputation as the small crossover that's big on the inside. It offers the same room for people and things as vehicles that take up more space and use more gas. The Toyota RAV4 counters with a total redesign, bringing livelier performance and additional driver assistance features. The CR-V retains it top-tier status this year, but is the fresher RAV4 even better?
See a side-by-side comparison of the CR-V & RAV4 »
What the CR-V Gets Right
We can't think of another crossover that makes more efficient use of space than the Honda CR-V. Despite its compact footprint, the CR-V seats five passengers in actual comfort. The cabin is airy and quiet, and ride quality ranks near the top of this class.
Even with all seats occupied, the CR-V accommodates up to 39.2 cubic feet of cargo, or a class-leading 78.5 cubic feet with the rear seat folded. That's more capacity than some mid-size crossovers.
The base CR-V comes with 2.4-liter four-cylinder engine that produces 184 horsepower and 180 pound-feet of torque. EPA ratings are above average at 26 miles per gallon city, 32 mpg highway, and 28 combined.
The other CR-V trims carry a 1.5-liter turbocharged four-cylinder with 190 hp and 179 lb-ft of torque. Along with the extra power comes a boost in efficiency. Turbo models are rated at 28/34/30 mpg (city/highway/combined).
A continuously variable transmission is used with both motors. Mileage estimates are one mpg lower across the board for both engines with the optional all-wheel-drive system.
What the RAV4 Gets Right
The RAV4 looks altogether more rugged this year – like a vehicle that can really respond when nature calls. Ground clearance has increased to 8.6 inches, and a terrain selector comes standard on models equipped with all-wheel drive. It's safe to say the RAV4 is now ready for moderate off-road duty.
Every RAV4 gets Toyota Safety Sense 2.0, an updated suite of driver assistance features that includes lane keeping assist, road sign recognition, and adaptive cruise control. Cargo space behind the rear seat has increased a tad to 37.6 cubic feet. With it folded, there's 69.8 cubic feet, slightly less than before.
The 2.5-liter four-cylinder has been reworked to produce 203 hp and 184 lb-ft of torque. That's admirable output for a standard engine in this class. Thanks to a new eight-speed automatic transmission, efficiency has inched up to 26/35/30 mpg, or 25/33/28 with AWD.
The Best Of Both
No one can quibble with the Honda CR-V's interior room and rolling smoothness. It's one small crossover that's equally adept at carpool duty and cross-country travel. Buyers will really appreciate the Toyota RAV4's newfound balance of power and efficiency, and, to a lesser extent, it's enhanced off-pavement capability and brawnier styling.
Our Verdict: Toyota RAV4
The new Toyota RAV4 gives buyers something to get excited about, which is no small feat in a class that thrives on practicality.
Take a closer look at the Honda CR-V »