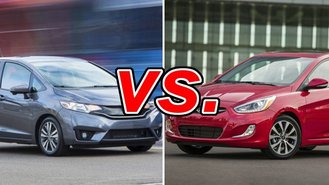 The Hyundai Accent has been around since the mid-1990s, but increasing fuel prices in recent years have given rise to a whole new segment of fuel-efficient vehicles–including the Honda Fit.
See a side-by-side comparison of the Fit & Accent »
The Accent has been known for years as an economical, well-built and fuel-savvy subcompact. But how does it stand up to newer competitors like the Fit?
What the Honda Fit Gets Right
The Fit is an efficient little car with an amazing amount of room. With the rear seats folded, it boasts an incredible 52.7 cubic feet of cargo space. The highly innovative rear seat design features a 60/40 split, and also folds up to reveal additional storage space below. Speaking of the rear seat, it has an impressive 39.3 inches of legroom.
The engine is lively and quick with 130 horsepower on tap. With an agile steering system, the Fit navigates the tightest spaces with ease. Fuel economy is good, and reliability is extremely high. But interior versatility is really what sets the Fit apart.
What the Hyundai Accent Gets Right
Available as both a sedan and hatchback, the Accent has two trim levels and two transmission options. Our favorite feature is the direct-injected 1.6-liter four-cylinder engine. Fuel economy is good at 28 mpg city and 37 mpg highway, though it falls short of the Fit's up to 41 mpg highway rating. The ride is not only comfortable, it's also fairly quiet.
We love the interior design, and the Accent's cabin feels larger than it truly is. One place it excels is its 21.2 cubic feet of cargo room with the seats upright, besting the Fit by about 4 cubic feet.
Does the Fit Challenge the Accent?
The Accent has a 10-year head start on the Fit, but the Honda does a lot of things very well for a newcomer. The Fit offers more interior versatility, an innovative rear seat, nimble handling and decent fuel economy. Meanwhile, the Accent has more interior space for passengers and a respectable amount of cargo space, not to mention a slightly more-powerful engine.
Our Verdict: Honda Fit
While we like the Accent's engine, the Fit offers more intelligent packaging. There's a slightly higher price on the Fit, but the adaptability of a small subcompact hatchback is extremely important, and in that regard the Fit is our choice.
Take a closer look at the Honda Fit »