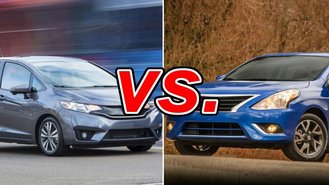 In the competitive world of subcompact vehicles, it's difficult to make a name for yourself. Nearly every auto manufacturer offers one of these cars, but how do you go about launching a new model against more established rivals on the market -- or each other?
See a side-by-side comparison of the Fit & Versa »
This is a problem the Honda Fit and Nissan Versa faced when they both arrived on the scene in 2007. So how do these relatively new offerings stand up to one another?
What the Honda Fit Does Well
The Fit is a available in three trim levels and a single hatchback body style. This subcompact is powered by a highly efficient 1.5-liter four-cylinder engine that delivers up to 41 mpg highway. It may be an economy car, but the Fit feels agile and quick on the road.
Impressive interior space is enhanced to around 53 cubic feet by Honda's "magic" split-folding rear seat, which enables the bottom cushion to flip up for the transportation of taller items. Interior legroom and headroom are respectable for such a small car, and the rear seats have been redesigned for 2015 to offer an additional 4.8 inches of legroom, comfortably accommodating two adults.
Setting the Fit apart in this class is its range-topping EX-L trim, which includes leather upholstery and an optional navigation system.
What the Nissan Versa Does Well
The Versa's greatest asset is its ultra-low price tag, making it an affordable option for almost everyone. The interior is spacious for its class, but cannot hang with the Fit in most of the important metrics, despite coming as either a sedan or hatchback (Note).
Fuel economy is stellar with its continuously variable transmission, as its delivers up to 31 mpg city and 40 mpg highway. Options are scarce at lower trim levels, but the Versa has up to five trim to choose from, giving buyers plenty of options.
How Do they Compete Against One Another?
Subcompact buyers often look for versatility -- the Versa and the Fit both serve many roles. With its "magic" seat and astoundingly roomy cargo bay, the Fit wins out in that category. It's also more fun to drive.
The Versa, however, is more affordable and outperforms the Fit in fuel economy.
Our Verdict: Honda Fit
While we love the price tag, fuel economy and options on the Versa, we think the Fit's versatility, superior driving dynamics and more flexible cargo space make it a better choice.
Take a closer look at the Honda Fit »