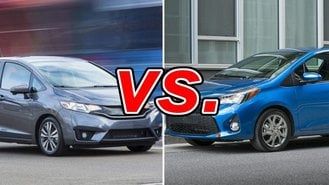 A reliable favorite of economy car buyers, the Honda Fit continues to offer frugal operation and even some fun for the driver. The smallest Honda is also a study in efficient packaging, boasting cargo space that defies its diminutive footprint.
See a side-by-side comparison of the Fit & Yaris »
The subcompact Honda Fit received a welcome redesign in 2015, helping it compete with the best in its class. Like the Toyota, it appeals to folks looking for hassle-free motoring at an easy price.
Both of these hatchbacks emphasize economy above all else, but which offers buyers more than they expect?
What's to Like About the Fit
Equipped with 1.5-liter four-cylinder with 130 horsepower that delivers up to 41 mpg highway, the Fit provides decent performance and gobs of fuel mileage for this class. Models with automatic transmissions get standard paddle shifters; a notable feature at this price point.
The Fit shines brightly when it comes to interior versatility. The redesign increased the rear legroom to more than 39 inches. With the split rear seat backs down, there's a whopping 53 cubic feet of cargo space spread across the flat load floor. The bottom cushions of the rear seats also flip up to provide a tall alleyway for things that need to remain upright, such as a potted tree or table lamp. The front passenger seat back folds down for additional space, allowing you to carry long items that would normally require a roof rack.
What's to Like About the Yaris
Like its bigger brother the Corolla, the Yaris is a highly likable mainstream player that appeals to a broad range of consumers. Contrary to the rap on subcompacts, the Yaris provides smooth operation, good resale value, and a back seat that doesn't feel like a punishment. Toyota has made the hatch opening as wide as possible, and split-folding rear seat backs are standard.
All models carry a 1.5-liter engine with 106 horsepower, which doesn't provide the grunt of the Honda, but does come close in fuel economy.
Why Do We Like Each?
The Honda delivers the efficiency and maneuverability of a subcompact while handling cargo on par with many small crossovers. The Yaris succeeds as an all-around pleasant performer in the Toyota tradition of providing reliable, people-friendly transportation.
Our Verdict: Honda Fit
The Fit's versatility and cargo space are simply unmatched in this class and make it a sound alternative to far more expensive vehicles.
Take a closer look at the Honda Fit »