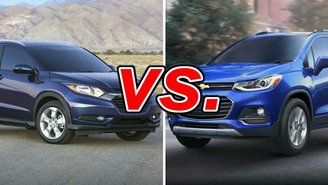 Subcompact crossovers are growing in popularity, as buyers look for a compromise between low-riding hatchbacks and pricey compact crossovers. The Honda HR-V and Chevrolet Trax both fit the bill nicely, but which is the better buy?
Continue reading to find out.
See a side-by-side comparison of the HR-V & Trax »
What the HR-V Gets Right
With its $21,445 starting price, the Honda HR-V has a $450 pricing advantage over the Trax. While this isn't much, every dollar counts in this low-cost segment. The HR-V, while not a beauty queen, does have more character than the plain-Jane Trax, especially in the cabin.
The HR-V also makes the most of its tiny size on the inside, giving rear passengers up to 39.3 inches of leg room, beating the Trax by 3.6 inches. Cargo room is another win for the HR-V, as its 24.3 cubic feet of cargo room with the seats up and 58.8 cubes with the seats down crush the Trax's ratings of 18.7 and 48.4 cubes, respectively.
What the Trax Gets Right
The Trax's generic looks, while bland to most, may appeal to a select group. Plus, its safety tests are decent, which makes it good for families.
Some shoppers may immediately look down at the Trax's 138-horsepower, turbocharged 1.4-liter engine as a deficiency, but its 148 pound-feet of torque help make up for its horsepower shortage. This 21 lb-ft advantage over the HR-V allows the Trax to launch quicker from a stop, which is especially important when hauling heavy cargo and a full load of passengers.
Who Buys the Trax?
The Chevrolet Trax loses pretty easily to the Honda HR-V, but this doesn't mean buyers should just write it off. There are buyers who prefer its calmer styling and traditional American cabin.
Verdict: Honda HR-V
The HR-V just has too much to offer to lose. It's not only roomier than the Trax, but its fuel economy is slightly higher, the price it lower, and its looks are sharper. It is a win-win-win for almost any buyer.
Take a closer look at the Honda HR-V»
Take a closer look at the Chevrolet Trax »