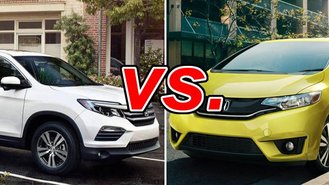 With subcompact crossovers becoming the next hot segment, automakers are scrambling to turn small hatchbacks into higher-riding utility vehicles. One such transformation took place within Honda's lineup, when it took the platform from the new Fit, lifted it up, and stuck a crossover body atop it.
This new model, which is dubbed the
HR-V
, was a near-instantaneous hit, as buyers came in droves to snap it up. Considering it is little more than a raised Fit, is the HR-V really any better than its tiny platform mate?
Find out.
See a side-by-side comparison of the HR-V and Fit »
What We Like About the Fit
As expected, the Fit start out at significantly lower price, meaning buyers can load it up with tons of features without killing their budgets. The Fit also delivers outstanding safety ratings, as the NHTSA gave it a five-star overall rating. Given its smaller size and tighter turning radius, the Fit is also a bit easier to navigate through tight parking lots. Finally, the Fit delivers significantly better fuel economy ratings, mostly due to its smaller size and aerodynamic advantages.
What We Like About the HR-V
The HR-V literally takes all that makes the Fit awesome and pushes it a little further. Sure, there are a few compromises, but the HR-V has a more powerful engine and a good bit more cabin room. This extra room in the cabin translates to more cargo room and some extra roominess for passengers. Finally, the one feature that sets the HR-V apart from the Fit by a long shot is its available all-wheel drive.
If a Fuel-Sipping Subcompact Crossover Really Worth it?
The short answer is "yes!" However, there are some qualifiers here. This is assuming you have a family that needs to haul lots of stuff and that you sometimes find yourself in areas where you need the extra ground clearance or the optional all-wheel drive offered by the HR-V. If you never need these extra goodies, then the Fit is the car for you.
Our Verdict: Honda HR-V
The HR-V is the ultimate subcompact. Not only is it fuel efficient and easy to drive, but it also has a cavernous cabin that swallows all the luggage you can toss at it. What's more, you have the extra ground clearance when needed and optional all-wheel drive if you live in areas where things get a little slippery.
Take a closer look at the Honda HR-V »