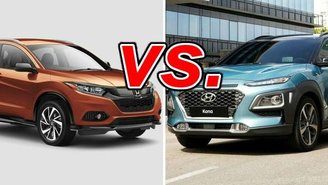 Subcompact crossovers are insanely popular today thanks to their relatively low prices, extra roominess, wide range of features, and ability to haul cargo. Two popular models are the Honda HR-V and the Hyundai Kona, a relative newcomer. With the Kona's wild styling and the HR-V's cavernous interior, they cater to slightly different types of buyers. Find out which is best for you here.
See a side-by-side comparison of the HR-V & Kona »
What the HR-V Gets Right
The Honda HR-V's appearance was once relatively wild, but the Hyundai Kona's looks fly right in your face and smack you around a bit. For some, the Kona's looks may be just fine, but the masses will prefer the more traditionally styled HR-V.
Inside, the HR-V puts one of the roomiest cabins in the segment on display with 39.3 inches of rear leg room and up to 58.8 cubic feet of cargo room with the rear seats folded. Those beat the Kona by 4.7 inches and 13 cubic feet, respectively.
The HR-V also boasts a superior ride for its class, giving it a more premium feel on the road. Add to that its clean cabin and more premium features in the upper trims, and it's easy to forget this is a subcompact crossover.
What the Kona Gets Right
The Hyundai Kona's exterior is a little much, but it's nicely put together inside with its circular air vents, wraparound color accent, and slick steering wheel.
The base Kona SE is also packed with tons of features the base HR-V LX lacks, including a 7-inch touchscreen, Apple CarPlay, Android Auto, forward collision warning, and automatic emergency braking. The Kona maintains its feature gap as you progress through the trim levels, creating amazing value.
While its base engine offers no separation from the HR-V's standard powerplant, the Kona's optional 1.6-liter turbocharged four-cylinder engine offers a potent 175 horsepower, which bests the HR-V by 34 hp. Plus, with its 195 pound-feet of torque kicking in at 1,500 rpm, the Kona delivers strong acceleration.
The Kona also gets a leg up as an IIHS Top Safety Pick Plus, while the HR-V only earned a Top Safety Pick. Plus, the Kona has standard automatic emergency braking, which is an option on the HR-V.
The HR-V Is a People- and Cargo-Hauling Dream
The Honda HR-V can't compete with the Hyundai Kona straight up, but it kills the competition, including the Kona, in interior room and cargo space. If space is what you need, the HR-V is the ride for you.
Our Verdict: Hyundai Kona
The Hyundai Kona may be overstyled for some, but its nicely designed cabin, potent optional powertrain, gobs of features, and top-notch safety rating make it a great buy.
Take a closer look at the Honda HR-V »