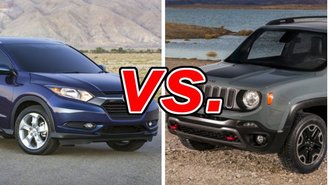 The subcompact crossover class is full of quirky rigs, and the Honda HR-V and Jeep Renegade are no exceptions. Though they compete in the same class, the HR-V and Renegade are vastly different, with the Renegade marketed toward off-roading Jeep fans and the HR-V is going for urban and suburban drivers.
Can the Renegade step away from its niche and overtake the HR-V? Continue reading to find out.
See a side-by-side comparison of the HR-V & Renegade »
What the HR-V Gets Right
Starting at $21,445 (destination fees included), the HR-V kicks off with a $1,270 price advantage over the Jeep Renegade. This leaves a lot of room to add features, or buyers can just pocket the extra money. Additionally, the HR-V's more traditional crossover styling will likely appeal to a larger crowd.
Though neither is over comfortable when compared to their larger siblings, the HR-V is significantly more comfortable than the Renegade. The Honda's seats are fuller and more supportive, and its cabin is quieter. The HR-V also offers a ton more space for people and cargo. For the former, the rear seat riders get up to 39.3 inches of leg room to the Renegade's 35.1 inches. Cargo room reveals another big gap, as the HR-V can tote up to 58.8 cubic feet of cargo to the Renegade 50.8 cubes.
Finally, while the HR-V may lack power when compared to the Renegade, its EPA-estimated fuel economy of 28 miles per gallon city, 34 highway, and 31 combined best the Renegade by four mpg city, three highway, and five combined.
What the Renegade Gets Right
The Renegade plays right into the hearts of the Jeep fans with its classic styling that draws on the brand's rich heritage. It also boasts a relatively potent pair of engines that starts with a 160-horsepower, turbocharged 1.4-liter and caps off with a 180-hp 2.4-liter.
In true Jeep fashion, the Renegade is also the most off-road-ready subcompact crossover you'll ever meet – at least in its Trailhawk form. The Trailhawk model boasts 8.7 inches of ground clearance, standard all-wheel drive, exclusive bumpers for better approach and departure angles, a low-ratio transfer case, and a simulated 20-to-1 crawl ratio.
Planning to Get Dirty? Get the Jeep
The HR-V is, of course, the better buy overall, but there is one exception. If you regularly travel off the beaten path and need something small that can still handle off-road work, the Renegade Trailhawk is the rig for you.
Verdict: Honda HR-V
The Honda HR-V is one of the best in its class, whereas the Jeep Renegade is a true niche model. This is an easy competition for the HR-V to win, thanks to its abundant cargo room and cabin space and impressive fuel economy.
Take a closer look at the Honda HR-V»
Take a closer look at the Jeep Renegade »