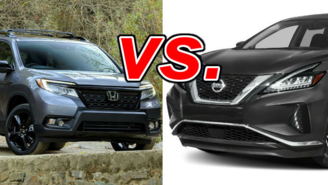 In the world of five-seat SUVs, buyers are now spoiled for choice. As buyers flood to crossovers, the market fills with options at every price point. Two of the front runners come from Japan: the Nissan Murano and the Honda Passport. The Murano has been around the block once or twice, but this iteration of the Passport only joined Honda's lineup in 2019. How do the two stack up in competition?
See a side-by-side comparison of the Passport & Murano »
What the Passport Gets Right
The Honda Passport's first advantage is under the hood. Both cars use a 3.5-liter V6, but Honda's is good for 20 extra horsepower. That may not sound like much, but it translates in other areas. The Passport will tow 5,000 pounds, while the Murano can only manage 1,500.
The Passport also comes with a true nine-speed automatic transmission. The Murano uses a continuously variable transmission, which is theoretically better for efficiency but dings the driving feel.
The Passport's most tangible advantage is behind the seats. The Honda can carry 41 cubic feet behind the second row, or 78 with it folded. That's substantially more than the Murano's 31 cubic-foot trunk, which still fits only 65 cubes with seats stowed.
Finally, the Passport includes more in its starting price. Honda's active safety tech package is a little more comprehensive, and the Passport includes standard features like remote start and 20-inch wheels.
What the Murano Gets Right
The Nissan Murano's assets begin with its price tag. Starting at a little more than $32,000 (after destination fees), the Murano checks in close to $1,000 less than the Passport.
Despite being the older design, the Murano is the better looking in our eyes. A 2019 refresh added a touch of modernity, but the floating roof and sleek lines remain more exciting than most crossovers on the road.
The Murano also has the edge in the efficiency department. The EPA estimates that the Murano will do up to 20 miles per gallon city, 28 mpg highway, and 23 combined. That's better than the Passport's 20/25/22 mpg (city/highway/combined), especially on the highway.
Aiming for Mainstream
Both these crossovers aim right down the middle. The Nissan Murano has the more exciting looks, but both try for a similar union of utility and comfort. The Murano is cheaper and more efficient, but not by much. On the flip side, the Passport offers more performance, more features, and much more space.
Our Verdict: Honda Passport
Honda is still the king of practicality here. Ten cubic feet of cargo is too much to overlook, especially when it's paired with Honda's reputation for safety and reliability. For buyers who don't need a third row, the Honda Passport is a practical bet.
Take a closer look at the Nissan Murano »