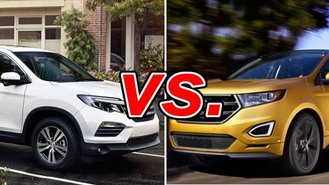 Barely into its second generation, the youthful Ford Edge appeals to families with new millennium styling and technological advances. The Honda Pilot, meanwhile, has had over a decade to establish itself as reliable transportation for up to eight people and their cargo. Which is the better choice?
See a side-by-side comparison of the Pilot & Edge >>
What the Ford Flex Does Well
The Edge boasts three engine options: a 285-horsepower V6, a 305-horsepower V6 and an extra-cost EcoBoost four-banger that delivers a combined 24 mpg. All are mated to a six-speed automatic transmission with manual shifting capability.
Fashion-forward exterior design has a beefy profile that resonates with buyers who don't want to sacrifice style for practicality. Inside, there's comfortable seating for four. Base models have cloth seats and an AM/FM in-dash single CD player with CD/MP3 Playback. Luxury trims feature leather seats and Sony High Definition Radio with 12 speakers.
In response to negative feedback about overcomplicated touchscreen controls for the Edge's infotainment system, Ford announced it will return some buttons to the dashboard.

What the Honda Pilot Does Well
The Honda Pilot finds its niche with families who need maximum space in a crossover package. The cabin comfortably seats eight adults, with plenty of headroom even in the third row. When it's time for hauling chores, the Pilot's boxy shape provides a very usable 87 cubic feet of cargo space. A power lift-gate on higher trim levels facilitates stress-free loading and unloading.
Voice command allows for hands-free operation of telephony, navigation and entertainment functions. The center console's compartments make it easy to organize accessories; Bluetooth and USB ports enable streaming and charging, and launch the Pilot to the top of the convenience charts.
On the performance side, however, acceleration from the 250-horsepower V6 can feel sluggish. This is more pronounced in heavier four-wheel drive Pilots, but the extra traction is a fair trade-off in regions that experience inclement weather.
Which is the Better Choice for Families?
While the Ford Edge gets a pat on the back for its futuristic styling, advanced engineering and safety features, the Honda Pilot costs less, holds more people and cargo and has a more user-friendly driving management system.

Our Verdict: Honda Pilot
With Honda's reputation for reliability and low operating costs, the Pilot claims victory in this comparison.
Take a closer look at the Honda Pilot >>