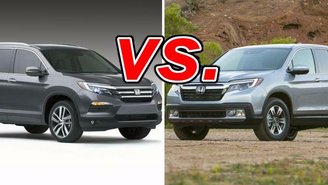 When Honda relaunched the Ridgeline in 2017, buyers were treated to, essentially, a Pilot with a truck bed. At first, some people were turned off by its unconventional appearance and un-truck-like specs, but it's grown on many since then.
With the Ridgeline so closely related to the Pilot, the two sometimes find themselves being cross-shopped by buyers not quite sure if they need a pickup or a crossover. We took a look at both models to determine which is the better buy for the average family.
See a side-by-side comparison of the Pilot & Ridgeline »
What the Pilot Gets Right
The first, and most obvious, benefit of the Pilot is the fact that its cargo area is enclosed, keeping your items out of the elements. Its body is also a good bit shorter than the Ridgeline's, making it an easier vehicle to navigate in city streets.
As a traditional crossover, the Pilot's rear seats also boast a good bit more legroom than the Ridgeline with space for up to seven people. What's more, its nearly 90 cubic feet of maximum cargo room makes it just as capable of hauling household items as the pickup. It can also tow just as well as the Ridgeline when equipped with an optional tow package.
What the Ridgeline Gets Right
Being based on the Pilot means this pickup truck boasts all the comfort and agility of a crossover. This makes it a rare find among midsize pickups. What's more, its bed allows you to haul up to 1,584 pounds of dirty stuff without worrying about staining the carpet.
It boasts the same powertrain and underpinnings as the Pilot, so it can also tow up to 5,000 pounds. In the Ridgeline, however, the required equipment – a 2-inch receiver and seven-pin trailer light socket – is standard, so there is no need for an optional package to haul a larger trailer. The Ridgeline also has the unique versatility of a lockable in-bed trunk for more sensitive items.
The Ridgeline's rear seats, while not as roomy or comfy as those in the Pilot, are plenty roomy and comfortable for most.
Do You Really Need a Pickup?
The Ridgeline is a cool pickup, but does your family actually need it? Most will not, and they will miss out on the added seating and protection from the elements the Pilot offers.
Verdict: Honda Pilot
Sure, it's a touch more expensive than the Ridgeline, but the covered cargo area and the additional seating make up for it. What's more, rear-seat passengers will be far more comfortable in the Pilot.
Take a closer look at the Honda Pilot »