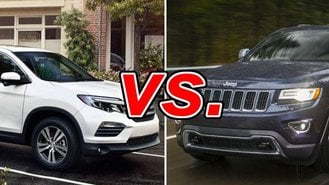 Sport-utility vehicles are one of the highest sellers in the U.S. Over the years, they've had to adapt and change to meet the standards of today's typical SUV customer. Where you once found spartan interiors, body-on-frame construction and tractor-like suspension systems more appropriate for the trail than the highway, you now find luxurious leather, seating for seven to eight people and a quiet ride.
See a side-by-side comparison of the Pilot & Grand Cherokee >>
The Jeep Grand Cherokee and the Honda Pilot are two modern examples. While the Jeep has off-road heritage oozing from every angle, the Pilot is, by comparison, still an upstart. Could the Honda be well-rounded enough to overtake the Grand Cherokee?
What the Jeep Grand Cherokee Gets Right
With seating for five, the Jeep Grand Cherokee has five available models. All -- except for the performance-based, 360-horsepower Hemi V8-powered SRT -- use the same 290-horsepower 3.6-liter V6 engine with power being supplied to either the two rear or all four wheels via an eight-speed transmission.
A new diesel engine is also available for the 2014 model year that can achieve up to 30 miles per gallon highway and tow as much as 7,400 pounds. There is also a terrain select mode for the all-wheel drive, and the Overland and Summit models both come with a hill descent control system.
What the Honda Pilot Gets Right
The Honda Pilot has seating for up to eight people and four trim levels -- all available in either front-wheel or four-wheel drive. All models are powered by the 250-horsepower V6, and all use the same five-speed automatic transmission.
The Pilot achieves a fuel efficiency rating of 17 mpg city and 25 mpg highway -- good for a vehicle this size. The available VTM-4 Lock system allows the driver to manually lock the rear differential for poor surface conditions.
Is the Honda Pilot Well-Rounded Enough To Topple the Jeep?
While the Honda is the more practical choice for parents of three kids or more, the Jeep's off road heritage is still far too strong and present to be overtaken for now.
Winner: Jeep Grand Cherokee
We choose the Jeep Grand Cherokee because it offers the most in terms off road ability and modern appointments.
Take a closer look at the Honda Pilot >>