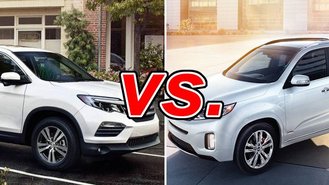 Three-row crossovers are the new family vehicles -- it's a segment the Honda Pilot helped popularize more than a decade ago. But there are now many new contenders and one, the Kia Sorento, offers lots of features for a price that beats the Honda. But is it better?
See a side-by-side comparison of the Pilot & Sorento >>
What the Honda Pilot Gets Right
The Honda Pilot sticks close to the first generation's formula with standard seating for eight people in a relatively compact space. The standard 3.5-liter V6 is also classic Honda: smooth power and good fuel economy.
The Pilot also benefits from recent upgrades like standard backup cameras and better infotainment systems on all trim levels. The center screen is large and the buttons are relatively user-friendly. Important for families, though, storage spaces and clever solutions abound.
What the Kia Sorento Gets Right
The Sorento offers much more choice for those who don't need V6 power or want a much lower starting price -- keeping with Kia's value-conscious image. A 2.4-liter engine is available, as is a V6 that's even more powerful than the Pilot's. Despite the value image, top-level Sorentos have relatively posh interiors. And the styling is rather sleek and handsome for this class.
Is the Sorento Better Than the Pilot?
The Sorento gets the nod here because it does just about everything the Honda does but for significantly less money. The V6 that comes on most models is more powerful than the Pilot's, and the smaller overall size of the Kia makes it more maneuverable around town. And while Honda's upping the ante with newer technology, you still have to get one of the top trim levels to get options like navigation.
Our Verdict: Kia Sorento
The Pilot is one of the most competent vehicles in the class, but the Sorento wins because it does just about everything for less money in a more tidy package.
Take a closer look at the Honda Pilot >>