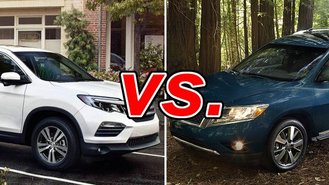 While sport utility vehicles were originally designed to be rugged, off-road trailblazers, in today's world the reality is that most SUVs and crossovers can be found in a suburban driveway or shopping center parking lots. Automakers know this, so they design modern SUVs to be comfortable, spacious and as efficient as possible.
This doesn't mean that they aren't capable of tearing up a trail or back road once in a while. The Honda Pilot and the Nissan Pathfinder are perfect examples of the new sport utility, but which one retains the most gutsy heritage?
See a side-by-side comparison of the Pilot & Pathfinder >>
What the Honda Pilot Gets Right
With a low base price and seating for eight, the Pilot can carry one more passenger than the Pathfinder. The cabin has Honda's usual clean design and well-conceived control placement. Thanks to its boxy shape, the Pilot can offer as much as 87 cubic feet of cargo space behind the first row.
Power comes from a 250-horsepower 3.5-liter V6, and the Pilot offers front-wheel and four-wheel drive models. The latter has a rear differential that can be locked for tough off-road driving. Fuel economy is 18 mpg city and 25 mpg highway -- not bad for a vehicle this size.
What the Nissan Pathfinder Gets Right
The Pathfinder comes in three trims: the S, SV and SL. Its 260-horsepower 3.5-liter V6 is paired with a continuously variable transmission (CVT) that helps it achieve 20 mpg city and 26 mpg highway -- economy that bests the Pilot even thought the Pathfinder is more powerful.
Like the Pilot, the Pathfinder is available in front-wheel or all-wheel drive. The styling is sleek and the interior well-trimmed with clever options like the bird's eye view that displays an aerial image of the car and the objects around it. It's very useful when trying to park the large vehicle in tight spaces.
Which Most Retains It's Heritage
Here the edge goes to the Honda with its locking rear differential and conventional automatic transmission. The Nissan's CVT is efficient, but it's also guilty of robbing engine power.
Winner: Honda Pilot
The Honda Pilot is incredibly practical around town, and has the ability to go off the beaten path without a whimper.
Take a closer look at the Honda Pilot >>