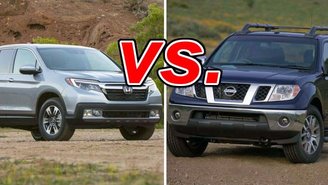 The pickup truck market has morphed into a broad-reaching segment that includes everything from utilitarian work trucks that you won't mind dumping a ton of gravel in to posh models that do little more than haul around people. When compared head-to-head, the Nissan Frontier and recently redesigned Honda Ridgeline span every inch of this range, as the Frontier has a simple, utilitarian side and the Ridgeline is more like a crossover with a bed.
See a side-by-side comparison of the Ridgeline & Frontier >>
While both pickups serve their purposes well, which one fits the needs of midsize pickup buyers the best?
What the Honda Ridgeline Gets Right
Comfort and convenience head up the list of the Ridgeline's strongest attributes. Its crossover-based structure provides easy handling and a smooth ride and—at the base RT trim level—the Ridgeline offers more features that make the ride a pleasure than does the Frontier. The comfortable rear seats are easy to access, and when cargo takes the place of people, these rear seats easily fold up, exposing a large cargo area.
The Ridgeline's 3.5-liter V6 engine is plenty powerful with 280 horsepower at its disposal, and easily bests the max horsepower of both of the Frontier's engines. What's more, this 3.5-liter engine is also the most efficient of the group at 22 mpg combined.
The Ridgeline acknowledges its role as a truck with a two-way tailgate, available all-wheel-drive, and a lockable under-bed trunk/cooler. It also has a four-foot flat space between the wheel wells, which helps when hauling plywood or drywall, and a longer standard bed that makes it a better base setup for cargo hauling. The 350-pound tie-down cleats make hauling big, heavy items a cinch, as well. This bed also has an available audio system and 110-volt power source, making it the perfect tailgating machine.
Finally, with a nearly 1,600-pound payload capacity, the Ridgeline can handily out-haul many of its competitors.
What the Nissan Frontier Gets Right
As a more utilitarian model, the Frontier starts out at a far lower price that lessens the concern when treating it roughly—say, by dumping a few hundred pounds of stone in the bed.
The Frontier's ideal use is as a purpose-built work truck. Buyers have several choices available in configuring their ideal truck with two body styles (extended or crew cab), two cargo bed lengths, two engines, five trim levels, and two-wheel or four-wheel drive. While not all choices are available in all combinations—the longer cargo bed comes only with the crew cab body, for instance—there is still a wealth of possibilities.
Frontiers equipped with the V6 engine, with an available 281 pound-feet of torque, have a towing capacity of up to 6,500 pounds when equipped with the towing package. This bests the Ridgeline by 1,500 pounds.
Finally, the Frontier's available 73.3-inch long bed makes this midsize pickup the more capable of the pair when taking on cargo with lengthier dimensions.
The Ridgeline is useful, but still not a truck in the true sense
The 2017 Ridgeline is more useful and stylish than ever before, but it is still not a true pickup truck. It is more of a crossover with a cargo bed. Buyers truly shopping for a truck will find its bed too short for real work and its price tag is too high for most to feel comfortable taking it to the job site.
Our Verdict: Nissan Frontier
The Frontier's best suited for true truck work thanks to its lower pricing, longer optional bed, torqier V6 engine, higher max towing capacity, and an off-road-read PRO-4X model. These are all the main boxes that truck buyers need to check when shopping for their next pickup. The Ridgeline simply doesn't match up in these areas.
Take a closer look at the Honda Ridgeline >>