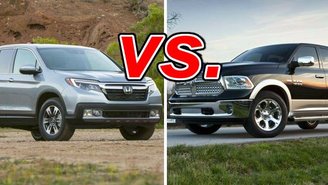 In today's world of pickup trucks, the new midsize segment gives truck buyers a new option that they lacked in years past. The Honda Ridgeline is a special sort of midsize pickup, as it combines the usefulness of a small truck with the car-like ride of a crossover. There are some tradeoffs that come with this combination, but some buyers are more than willing to lose some capability for a more family-friendly pickup.
The Ram 1500, on the other hand, is all truck. It has all the cargo-hauling and trailer-towing capacities one expects from a full-size pickup.
Is the Ridgeline enough to pull buyers from a full-size Ram 1500 to the midsize segment?
See a side-by-side comparison of the Ridgeline & 1500 >>
What the Ram 1500 Gets Right
As has been the case for decades now, the Ram offers a rugged look that fits its work-focused buyers well. On the other end of the spectrum, however, there are higher trims that add in comfort features like leather upholstery, wood trim, remote start, and more.
Recently redesigned, the 1500 offers a base 305-horsepower Pentastar V6 and an optional 395-horsepower Hemi V8 engine. For buyers looking for more efficiency, there is a 3-liter diesel engine available with a mighty 420 pound-feet of torque and up to 29 mpg highway. All three engines come with an eight-speed automatic transmission that enhances fuel economy.
A strengthened frame and air suspension give the Ram more towing and payload capabilities, while its available 76-inch-long bed makes hauling longer cargo with the tailgate closed possible.
What the Ridgeline Gets Right
The Ridgeline isn't built for serious work, but that's okay—most of its buyers want an occasional hauler that coddles passengers. There's plenty of space in the cabin, significant cargo capacity for recreational toys, and loads of comfort for daily driving.
While its 280-horsepower V6 can't hold up to the three engines available with the Ram 1500, its 22 mpg combined best both of the Ram's gasoline engines. What's more, features like its in-bed audio, under-bed trunk/cooler space, and an upscale cabin all make the Ridgeline a great pick for casual truck drivers.
Why Do Buyers Opt for the Ram 1500 Over the Ridgeline?
The 1500 has what most truck buyers look for: a choice of powerful engines with diesel options, and rugged durability. Those in search of a smooth ride may choose the Honda with their light-duty needs, but the 1500 is more likely to fit the needs of a wider audience.
Our Verdict: Ram 1500
The 1500's newly redesigned interior puts it on level footing with competing body-on-frame pickups—and matches the Ridgeline's build quality. While its ride isn't as smooth as the Honda's, the Ram's towing and cargo capacity and optional engines put it ahead by a nose.
Take a closer look at the Honda Ridgeline >>