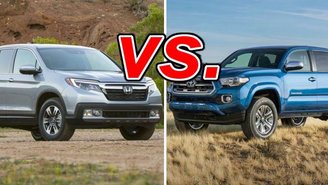 The midsize truck segment is on fire as of late, and one of the long-time leaders in this segment is the Toyota Tacoma. Recently redesigned, the Tacoma is more rugged than ever and ready to take whatever truck buyers have to throw at it.
On the other side of the midsize spectrum is the posher and more passenger-ready Ridgeline. Also recently refreshed, this pickup is more crossover-meets-pickup than rugged work appliance, but it still has the ability to handle light-duty hauling.
See a side-by-side comparison of the Ridgeline & Tacoma >>
While both have their strengths and weaknesses, which is the better buy?
What the Tacoma Gets Right
The Tacoma is a legend in this segment and its new styling makes it look more rugged than ever. Adding to this ruggedness is a TRD Pro model that is ready to take on all your off-road needs.
The Tacoma's optional 3.5-liter V6 engine musters up 278 horsepower, getting the pickup within striking distance of the Ridgeline. What's more, its available manual transmission and traditional four-wheel drive make the Tacoma easier to control in off-road and hauling scenarios.
Finally, the Tacoma's lower base price makes it a great buy for folks looking for a truck they won't mind beating up a bit.
What the Ridgeline Gets Right
With a new look, the Ridgeline is more pickup-like than ever, but it retains its soft, crossover-like suspension. This and its upscale available features make it a top pick or buyers who are more concerned with hauling the family than heavy cargo.
The Ridgeline also holds on to a small advantage in the power department due to its 280-horsepower 3.5-liter V6. What's more, at up to 22 mpg combined, it easily bests the Tacoma's efficiency.
Finally, the Ridgeline's available dual-action tailgate, under-bed trunk/cooler, and in-bed audio all make it a great option for tailgaters.
Are They Equals?
Both pickups can act as daily drivers, but the Tacoma separates itself with its off-road capabilities, available long bed, and higher max towing capacity.
Our Verdict: Toyota Tacoma
The Tacoma delivers what more truck buyers want for a lower price.
Take a closer look at the Honda Ridgeline >>