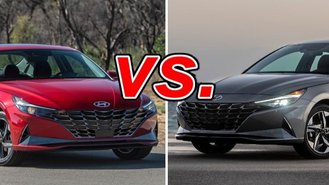 Hyundai introduced an all-new Elantra lineup for the 2021 model year, including a new hybrid variant. Should buyers go with the regular version of the compact sedan, or spend a little extra money on the more efficient hybrid? Let's do a comparison and find out.
See a side-by-side comparison of the Hyundai Elantra & the Hyundai Elantra Hybrid »
What the Elantra Gets Right
The Elantra is the more affordable car of the two. Pricing for the base Elantra starts at $20,645 including destination, while the Elantra Hybrid costs $24,545. That's a large $3,900 difference that would likely take a long time to recuperate at the gas pump.
While the Elantra may come with less features, it still comes with an 8-inch touchscreen, wireless Apple CarPlay, Android Auto, two USB ports, a full roster of active safety features, and keyless entry. So, it comes handsomely equipped out of the gate.
When it comes to performance, the Elantra is the better option. The regular Elantra comes with a 2.0-liter four-cylinder engine that's rated at 147 horsepower. Power for the Elantra Hybrid comes from a 1.6-liter turbocharged four-cylinder that's paired with an electric motor. The powertrain is rated at a combined 139 hp. In addition to having less horsepower, the way the Elantra Hybrid is tuned makes it less enjoyable to drive spiritedly than the regular Elantra.
What the Elantra Hybrid Gets Right
If fuel economy is a priority, the Elantra Hybrid is the better choice. Thanks to its efficient powertrain, Hyundai expects the vehicle to return a fantastic 53 miles per gallon city, 56 mpg highway, and 54 combined.
Meanwhile, the regular Elantra gets an EPA-estimated 33/43/37 mpg (city/highway/combined). With the expected 17 mpg combined difference, the Elantra Hybrid will save you hundreds of dollars in fuel depending on many miles you drive a year and your driving style.
For the extra money, the Elantra Hybrid comes with more features over the regular Elantra. Push-button start, Hyundai's Blue Link connected services, satellite radio, heated front seats, heated exterior mirrors, LED rear taillights, and 16-inch alloy wheels are all standard on the hybrid.
Want to Save Money on Fuel?
Choosing between the Elantra and the Elantra Hybrid is fairly straightforward. Do you need a hybrid with better fuel economy? If the answer is yes, then the Elantra Hybrid is the obvious choice if you can pay up for it.
Our Verdict: Hyundai Elantra
If the gap in pricing between the Hyundai Elantra and the Hyundai Elantra Hybrid was a tad smaller, we would be recommending the electrified variant. Unfortunately, as it stands, the Elantra is the better option in our eyes. It has a more affordable price tag, gets great fuel economy, and comes with a lot of the same standard features. That's enough for a win.
Take a closer look at the Hyundai Elantra »