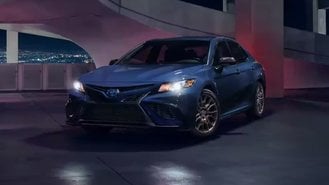 When it comes to finding a hybrid vehicle you can certainly have your work cut out for you since nearly every brand now makes fuel-efficient hybrid models. One company in particular, Toyota, has several hybrid vehicles to choose from. But which is the best option?
If you're looking for a Toyota hybrid, but aren't sure which to choose we have the lowdown on prices, specs, and sizes to help you choose which hybrid vehicle is right for you when you're deciding between an all-new Crown or a popular Camry Hybrid.
Toyota Crown vs. Camry Hybrid Price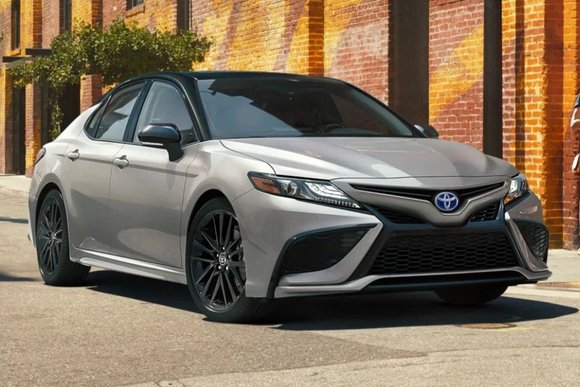 The all-new Toyota Crown starts with an MSRP of between $41,045 and $53,445. The smaller Toyota Camry Hybrid comes in as the cheaper of the two compared here with a starting MSRP range between $29,175 and $34,615.
Being that both of these vehicles are Toyotas, the packages run around the same amounts in both vehicles. Those package prices can step into the thousands though, making a fully loaded model of either the Crown or the Camry Hybrid quite expensive.
For example, choosing to start with the mid-range Camry Hybrid XLE with a starting MSRP of $34,065 gets you a genuine leather interior with heated seats and side mirrors, but adding features like ventilated seats, adaptive headlights, navigation, and a sunroof requires you to put down an additional $4,665 – a grand total of $38,730. Still, even with all the bells and whistles on a Camry Hybrid, you won't top the starting MSRP of the Crown.
Toyota Crown vs. Camry Hybrid Size
The new Toyota Crown is a large sedan meant to fill the void left by the Avalon, which Toyota said goodbye to in 2022. As a large sedan, the Crown measures 196.1 inches long and 72.4 inches wide. It sits on a 112-inch wheelbase with an exterior height of 60.6 inches. It outpaces the Camry Hybrid by four inches in length and height. However, both vehicles are the same width, giving passengers a comfy ride.
The Camry Hybrid measure 192.1 inches long and 56.9 inches tall, and sits on a 111-inch wheelbase.
The Crown seats five with eight-way power-adjustable front seats and a 60/40 split rear bench. Passengers get ample leg room with 42.1 inches in the front and 38.9 inches in the back. Headroom runs 38.2 inches in front and 37.5 inches in back.
The Crown's wide stance gives passengers plenty of room for shoulders and hips, with 55.2 inches of hip room in the front and 53.1 inches in the back. You won't be rubbing shoulders in cramped quarters with 57.1 inches of shoulder room in the front and 55.1 inches in the back.
When it comes to seating in the Camry Hybrid passengers are getting basically the same amount of space compared to the measurements of the considerably larger Crown. Rear riders only get less than an inch less space for legroom on the Camry Hybrid, all other measurements are similar to the Crown.
Camry Hybrid passengers get 42.1 inches of legroom in the front and 38 inches in the back, headroom stands at 38.3 inches in front and 37.6 in the rear, and hip and shoulder measurements actually just eke out the space on a crown coming in at 55.4 in front and 54.6 in back, and 57.7 in front and 55.7 in back, respectively.
Toyota Crown vs. Camry Hybrid Interior
Every Toyota Crown comes with a sleek interior that is dominated by two 12.3-inch screens, one is the digital instrument cluster and the other is an infotainment touchscreen that sits atop the dash, even on the base model. Below this is a row of physical controls for the HVAC system. The interior and seats are clad in leatherette and cloth, while sturdy rubber floor mats adorn both the front and back.
The Crown manages to look nice enough, but it doesn't float quite to upscale. With its hulking size, you'll also be wanting more room, though the interior is spacious enough.
The Camry Hybrid on the other hand seems to hide the amount of space it carries, which is just a few inches different than the Crown. Where you'll notice the difference in the inside is with the cluttered dash, small standard screen sizes, and cloth interior that adorn the base Camry Hybrid.
Each Camry Hybrid comes equipped with a seven-inch touchscreen and a cluster of physical controls below. The center stack looks cramped and confusing compared to the sleek-screened dash of the Crown.
Toyota Crown vs. Camry Hybrid Cargo Space
Both vehicles come with average trunk space for a sedan, 15.2 cubic feet for the Crown and 15.1 cubic feet for the Camry Hybrid. You can give yourself more space on the Crown with its folding rear seats, but you still only have an average size trunk opening, and there's no power-opening function. The same goes for the Camry Hybrid.
Toyota Crown vs. Camry Hybrid Fuel Economy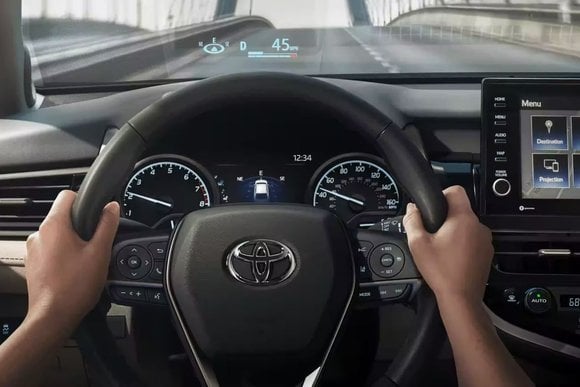 The Toyota Crown is a hybrid vehicle with a 2.5-liter four-cylinder gas engine paired with two electric motors. One of the electric motors powers the electronic all-wheel drive. There's also an optional turbocharged 2.4-liter four-cylinder which is also paired with the electric motors. Because of the dual motor setup, the base engine gets a combined fuel economy of 41 miles per gallon.
The Camry Hybrid also comes with a 2.5-liter four-cylinder engine which is paired with a single electric motor. It takes the cake on fuel efficiency in this comparison, getting a whopping 52 mpg combined with its base engine.
Which Is Better: Toyota Crown vs. Camry Hybrid?
Not to knock the all-new large sedan, but our choice is the midsized Toyota Camry Hybrid. Given its dimensions, you have just as much interior space, and the same safety features come standard on both models. Plus, even tricking out the Camry Hybrid to its maximum potential you're not going to spend nearly as much on it as you would a base model Crown.

Plus if you're looking for deals there are more to be had on the Camry Hybrid than the Crown, since the model has been around for longer. You can take advantage of special low APR offers and special lease deals if you qualify, both of which its too soon for with the Crown. Be sure to check our prices and deals pages, or check with your local dealership to find the best deal in your area.