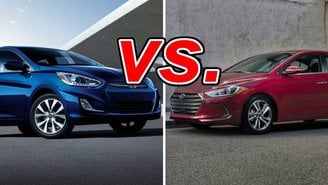 The Hyundai we see today is vastly different than the Hyundai of only a few years ago. The company has consistently improved performance, materials and design to compete with other leading brands on the market. The Accent and Elantra are both dependable and pleasant vehicles to drive, but which one offers the most value to buyers?
See a side-by-side comparison of the Accent & Elantra >>
What the Elantra Gets Right
Now in its sixth generation, The Elantra is a top pick in the sedan segment, surpassing even Toyota and Honda in many areas. It has a stylish, grown-up appearance that stands out from the crowd and plenty of interior room to handle growing families.

Under the hood, there's a strong 2-liter four-cylinder engine that delivers 147 horsepower and up to 33 mpg combined. Buyers looking for more thriftiness can get the Eco trim with its 1.4-liter turbo engine that injects 128 horsepower while delivering up to 35 mpg combined. Finally, there is the more performance-oriented Sport model with a 200-horsepower 1.6-liter engine and an available seven-speed dual-clutch transmission.

The cabin is a major selling point for the Elantra. It has an interior design that matches its classy exterior, with upscale materials and a charismatic layout. It features an impressive number of tech and comfort items standard, plus some appealing upgrades, like keyless entry and ignition.

Though it costs more than the Accent, it is still more affordable than some other competitors in the segment, and the extra investment will get buyers a lot for their money.
What the Accent Gets Right
The Accent has a niche market, and that is entry-level young buyers. These folks are looking for value, and the Accent delivers in this department.
Its 1.6-liter four-cylinder engine is strong enough to satisfy most drivers, and handling is smooth and accommodating. The cabin is roomy, the controls are easy to navigate, and it has a good selection of standard features.

It may not be flashy, but it is dependable, sensible, and economically priced for families. It gets good gas mileage, high safety ratings, and cabin noise is not as bad as some competing models. Families looking for an affordable sedan from a reliable company would do well to check out the Accent.
Why Buy the Accent?
The Accent clearly can't stack up to the recently redesigned Elantra, but it has a niche already carved out. It is there to attract young buyer to the brand and get them hooked. It does this by offering a super-low price and a handful of desirable and affordable options. The Accent is simply a gateway to the Elantra, essentially.
Our Verdict: Hyundai Elantra
The Accent is indeed a good family vehicle, but so is the Elantra, and getting the extra features and comfort is worth spending a little extra. In short, the step up to the Elantra is worth the money.
Take a closer look at the Hyundai Accent >>