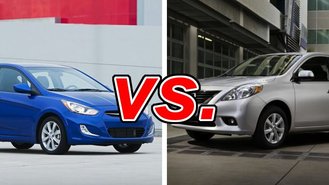 After a boom in 1990s, the subcompact class fell out of favor until returning with a vengeance in the 2010s. One of the staples in the segment is the Hyundai Accent, which is enjoying relative success despite earlier reliability issues. Most of the Accent's former success stemmed from its low price, but recent years have seen a significant increase in quality -- and pricing.
See a side-by-side comparison of the Accent & Versa »

The Nissan Versa, on the other hand, is one of the least expensive subcompacts on the market and reliability has never been an issue. However, it has much less experience than the Accent in this closely contested segment.

What the Versa Gets Right

First and foremost, it is hard to ignore the fact that the Nissan Versa comes in at an extremely low base price, making it an option for nearly any buyer. Additionally, the Versa's rear seat provides plenty of room for riders of all shapes and sizes. With 14.9 cubic-feet of cargo space in the trunk, the Versa is one of the most cargo-friendly subcompact sedans available.

Under the hood, the Versa may be underpowered -- but when equipped with a continuously variable transmission, it is a fuel-economy leader with up to 31 mpg city and 40 mpg highway.

What the Accent Gets right

The Accent comes relatively loaded, with standard power accessories, a six-speaker audio system, a tilt steering wheel and a 60/40 folding rear seat.

Under the hood, the Accent falls slightly behind in efficiency, as it gets 28 mpg city and 37 mpg highway. However, its 1.6-liter engine delivers 138 horsepower and 123 pound-feet of torque, which is far superior to the Versa's 109 horsepower and 107 pound-feet of torque.

Why Buy a Versa?

Despite obvious shortcomings, the Versa still has a chance to make some sales in the subcompact market. There is no denying that the Nissan nameplate on the Versa will draw buyers based on reputation alone. Additionally, some buyers still see the entire Hyundai brand as unreliable, though the reliability issues of yesteryear are a distant memory. Lastly, the Versa sedan's base price is unbeatable.

Verdict: Hyundai Accent

The Versa is a great option, but the Accent's sharp looks, powerful engine and standard features make it a better option in the subcompact segment.
Take a closer look at the Hyundai Accent »