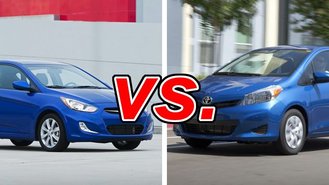 When the Hyundai Accent first debuted back in 1995, it was praised for its bargain-based pricing and small size. Unfortunately, its thriftiness was also overshadowed by bland styling, unreliability, mediocre interior quality, and a serious lack of performance -- all glaring faults during its long production run.
See a side-by-side comparison of the Accent & Yaris »
Hyundai engineers aimed to solve these glaring faults by doing a complete overhaul of the Accent for the 2012 model year, which bestowed Hyundai's pint-sized entry with new exterior styling, better engines and a renewed focus on interior quality.
Will all of this be enough to make the Accent stand out against the Toyota Yaris? Or will it once again fall short?
What The Accent Gets Right
Unlike the previous-generation Accent, which lacked any form of distinctive styling, the latest model borrows many of the fluid styling cues that made an initial debut on the larger Hyundai Sonata. This is especially apparent in the front fascia, which stands out from the competition. The rear fascia is a bit more conventional, but still looks sharp -- particularly on hatchback models.
The Accent's interior also boasts a healthy amount of standard equipment. Long gone is the sea of cheap plastic that once dominated older Accents -- Hyundai stylists have equipped the cabin with higher-grade materials, and given a renewed emphasis to ergonomics.
Buyers will also be pleased with a spirited 1.6-liter four-cylinder engine that generates a healthy 138 horsepower and is mated to six-speed manual or six-speed automatic transmissions, both boasting more gears than many rivals.
Why Choose the Yaris Over the Accent?
The Yaris counters by offering compact buyers more expressive exterior styling, especially on SE models. The Yaris's optional sport-tuned suspension offers better handling than the Accent's, and encourages spirited driving. The interior also offers better ergonomics and button placement, as well as slightly more supportive seats.
Where the Yaris pales is in its choice of an antiquated four-cylinder engine. Even worse, the automatic transmission only has four speeds, making it feel clunky and slow.
Our Verdict: Hyundai Accent

Despite the Yaris's emphasis on styling and handling, the Accent's stronger engine, slicker exterior styling and pair of six-speed transmissions help it to triumph over the Yaris in this comparison.
Take a closer look at the Hyundai Accent »