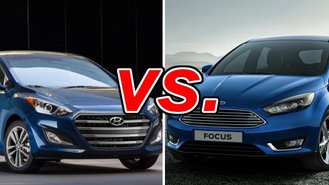 In a crowded compact hatchback segment, the Hyundai Elantra GT and Ford Focus take similar approaches in providing efficient but sporty economical transportation. Both are front-wheel drive cars with two-liter four-cylinder engines; a six-speed manual transmission is standard on the Hyundai, while a five-speed manual arrives as standard equipment in the Ford.
In a battle of hot hatchbacks, the Hyundai Elantra GT enters the arena with the Ford Focus to prove which five-door fun-to-drive gas-sipper claims victory.
See a side-by-side comparison of the Elantra GT & Focus »
What we like about the Hyundai Elantra GT:
Especially after a recent refresh, the Hyundai Elantra GT is worthy of notice in the crowded hot hatchback market. The GT's 2-liter four-cylinder engine produces 173 horsepower, but the Hyundai also weighs just 2,855 pounds, so buyers get the best power-to-weight ratio in its class.
Driver can customize steering feel with selectable modes of comfort, normal, and sport. A sport-tuned suspension tightens up the ride over the base Elantra, and makes the GT more fun to drive. Fuel economy is about average for the segment at 24 mpg city and 33 mpg highway.
What we like about the Ford Focus:
A longtime favorite in the compact hatchback segment, the Ford Focus SE is powered by a two-liter four-cylinder engine that creates 160 horsepower and 146 pound-feet of torque. The Focus scoots along with more authority than the numbers would suggest.
Handling is stellar, especially for a car that doesn't work especially hard at trying to be sporty. The electric power steering is fast and efficient, adding a level of confidence that may exceed other vehicles in the segment. Fuel economy is excellent at 26 mpg city and 36 mpg highway.
Our Verdict: The Ford Focus
While the Elantra GT offers a little more power, the performance numbers translate to similar real-world performance. The Focus is aptly named, the sharp steering and handling dynamics give the Ford an edge over the Elantra GT. Considering the significantly better gas mileage, especially on the highway, and the fact that the Focus is also available with a one-liter EcoBoost turbo engine that provides an incredible 40 miles per gallon on the highway, the Focus pulls away with the lead.
Take a closer look at the Hyundai Elantra GT »