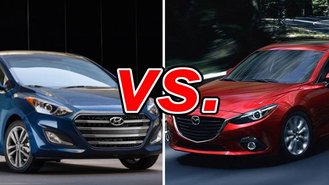 With base pricing less than $300 apart, the Hyundai Elantra GT and Mazda Mazda3 beg for comparison. Two-liter four-cylinder engines power both front-wheel drive vehicles; six-speed manual transmissions arrive as standard equipment.
In this battle of hot hatchbacks, the Hyundai Elantra GT enters the ring with the Mazda Mazda3 to prove which sporty five-door performance-oriented gas-sipper takes home the championship belt.
See a side-by-side comparison of the Elantra GT & Mazda3 »
What We Like About the Hyundai Elantra GT
The recently refreshed Hyundai Elantra GT is a compelling standout in the crowded hot hatchback market. The GT's 2-liter four-cylinder engine produces 173 horsepower and has only 2,855 pounds to move. That combination results in the best power-to-weight ratio in its class.
A selectable steering mode allows the driver to customize feel with comfort, normal, or sport modes. A sport-tuned suspension tightens up the ride over the base Elantra, providing a more engaging driving experience. Fuel economy is about average for the segment at 24 mpg city and 33 mpg highway.
What We Like About the Mazda Mazda3
The Mazda3 five-door hatchback is a longtime favorite with automotive journalists. The able 2-liter inline-four is less powerful -- rated at 155 horsepower -- but pushes the Mazda to 60 mph in about the same time as the Elantra GT. The assuring six-speed manual transmission is one of the best in the business.
While the Mazda3 may not specifically boast "sport tuning," the manufacturer excels at building cars that are a blast to drive and feel planted to the road. Fuel economy is absolutely brilliant earning 29 mpg city and 40 mpg on the highway.
Our Verdict: Mazda Mazda3
Very few economy cars offer the total package like Mazda's Mazda3. Nimble handling, performance, fuel economy and the superior fit and finish of it's purpose-built cabin are benchmarks in the segment. While the Elantra makes a good showing, especially after the attractive work that Hyundai has done to the exterior during the recent refresh, the Korean hatchback falls short of the very thing that makes a GT car a grand tourer: superior driving dynamics.
Take a closer look at the Hyundai Elantra GT »