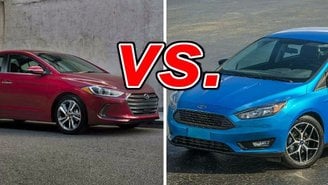 The Hyundai Elantra has muscled its way into the top tier of econo-sedans over the past few years. Buoyed by generous standard equipment and an excellent warranty, the stylish Elantra is winning over buyers who might have passed on previous editions.
Like the Elantra, the Ford Focus is much more car than it used to be. The current model boasts above-average power, technology, and refinement in an inexpensive package.
Let's see how their respective merits stack up.
See a side-by-side comparison of the Elantra & Focus »
What's to Like About Elantra?
Buyers don't have to make any sacrifices when choosing today's Elantra. It delivers commendable fuel economy at a bargain price, but you also get a roomy midsize cabin, elegant styling inside and out, and surprising standard features like heated mirrors and satellite radio.
The base Elantra can't quite hang with the more potent Focus, but the Sport model's 200-horsepower 1.6-liter engine bests all of the non-ST and RS Focus models. The Elantra Eco gets its own 1.4-liter engine that achieves 35 mpg in combined city and highway driving.
What's to Like About Focus?
A quick look at the Focus reveals that it's a cut above what you might expect in an economy car. Its exterior styling is sharp and expressive, and the interior surrounds you with high-quality materials. The dashboard layout, in particular, conveys a reassuring level of quality and refinement.
The Ford's 160-horsepower 2-liter engine is potent for this class and still delivers up to 40 mpg on the highway. Crisp handling and a well-balanced suspension contribute to an overall feeling of satisfaction in daily driving. Buyers looking for more power and performance can opt for the 252-horsepower ST trim or the 350-horsepower RS model.
Which Has an Edge?
The Elantra attempts to add some sophistication to the economy car formula with classy styling and hospitable interior appointments. The result is a well-rounded, inexpensive sedan that you can take you anywhere with no apologies.
The Focus has earned similar respect from its owners. With performance and refinement that defy its economy-car price, it's also a formidable player in this crowded field. The Focus also offers performance upgrades that the Elantra just can't touch.
Our Verdict: Ford Focus
Both cars have advanced to the top of their field and should be on every shopper's short list. That said, the Ford's extra helping of performance nudges it past the Hyundai in our view.
Take a closer look at the Hyundai Elantra >>
Take a closer look at the Ford Focus >>