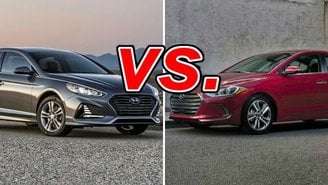 The Hyundai lineup is home to a pair of likable sedans that post strong sales year after year. Both the compact Elantra and midsize Sonata offer attractive value, strong efficiency, and a nice load of standard features. What's not to like?
But if we had to chose one to take home, which would it be — the highly affordable Elantra or family-friendly Sonata?
See a side-by-side comparison of the Elantra & Sonata »
What the Elantra Gets Right
We're confident in saying that the Elantra seems like it should cost more than it does. The grown-up exterior and relative sophistication inside give this compact an aura of upmarket refinement. The Elantra might not measure up to family sedans, but there's certainly nothing budget about it.
The base engine is a 2.0-liter four-cylinder that puts out 147 horsepower and 132 lb-feet of torque. A six-speed automatic transmission comes standard on all but the entry-level trim, where it's optional. This setup delivers an EPA-estimated 32 miles per gallon in combined city and highway driving. The Eco model gets a 1.4-liter turbocharged four-cylinder and a seven-speed automatic. Output is modest at 128 hp and 156 lb-ft of torque, but the Eco is rated at an excellent 35 mpg combined.
The Elantra Sport runs with a 1.6-liter turbocharged four-cylinder that's good for 201 hp and 195 lb-ft of torque. The Sport offers eye-opening performance for this class, and still manages 29 mpg combined.
What the Sonata Gets Right
The Sonata gets an effective styling refresh this year that should satisfy buyers who found previous iterations too bland for their taste. The interior looks better, too, thanks to updated controls and some plusher materials. What hasn't changed is the Sonata's ability to seat five in comfort and keep them that way as the miles tick by.
Most models are powered by a 2.4-liter four-cylinder engine that develops 185 hp and 178 pound-feet of torque, paired with a six-speed automatic transmission. The EPA estimates fuel consumption at 29 mpg combined. The Eco version of the Sonata gets a 1.6-liter turbocharged four-cylinder with 178 hp and 260 lb-ft of torque, along with a seven-speed automatic. This combo raises efficiency to 31 mpg combined.
The optional 2.0-liter turbocharged four-cylinder provides a massive boost to 245 hp and 260 lb-ft of torque. Working in tandem with an eight-speed automatic, the 2.0-liter is rated at 26 mpg combined.
How Much Car Is Enough?
In just about every measure, the Elantra reminds us of a seven-tenths version of the Sonata. Buyers who don't expect to carry passengers on a regular basis will be perfectly satisfied with the Elantra's capability, not to mention its lower price and higher efficiency. For everyone else, the well-rounded Sonata is the more practical choice.
Our Verdict: Hyundai Sonata
The Sonata demonstrates why midsize sedans still dominate the passenger car market.
Take a closer look at the Hyundai Sonata »