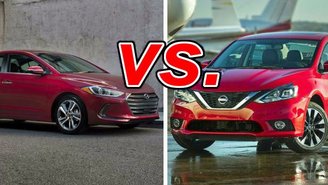 Once relegated to the bottom tier of mainstream economy cars, the Hyundai Elantra has made huge gains in quality and performance over the past several years. In addition, Hyundai piles on the standard equipment and offers an outstanding warranty to compensate for what the Elantra may lack in reputation.
Like the Elantra, the Nissan Sentra wasn't always at the top of its game, and sometimes got lost in the mix of competitive small cars. That changed in 2013 when the current model debuted with its mini luxury-car styling and roomy, well-trimmed exterior.
Which of these comeback kids has come back the most?
See a side-by-side comparison of the Elantra & Sentra »
Why the Hyundai Makes Sense
The Elantra is so much better than its predecessors, one wonders why Hyundai didn't bless it with a new name. Buyers don't have to make any sacrifices when choosing the current model. It delivers commendable fuel economy at a bargain price, and you also get a roomy cabin, distinctive styling inside and out, and surprising standard features like heated mirrors and satellite radio.
The Elantra carries a 1.8-liter four-cylinder under its hood with a healthy 145 horsepower. Buyers have a choice of manual or automatic transmissions, both offering six speeds. The Sport variant gets a 2-liter four-cylinder with 173 horsepower and a sport-tuned suspension.
Where Nissan Gets It Right
The Sentra aims for above-average refinement for its class and certainly achieves it. The understated styling will remind you of more expensive cars and is likely to wear well over time. Fit and finish are excellent throughout, well beyond anything found in previous generations. The Sentra's comfy back seat is one of the largest you can get in a compact.
Underneath the skin, the focus is efficiency. The 1.8-liter four-cylinder makes 130 horsepower, which is nothing special, but it achieves 40 mpg on the highway when paired with the available continuously variable automatic transmission (CVT).
Which Works Better?
Buyers stepping down from a larger car will undoubtedly appreciate the refined Sentra. Its grown-up personality combined with strong fuel economy gives it a unique identity in the market.
The Elantra adds its own flair to the economy car formula with expressive styling and a relatively sophisticated interior. We consider it a fine example of what can be accomplished in an inexpensive sedan.
Our Verdict: Hyundai Elantra
While both cars succeed in terms of quality and efficiency, the well-rounded Elantra meets the demands of a broader swath of buyers.
Take a closer look at the Hyundai Elantra >>