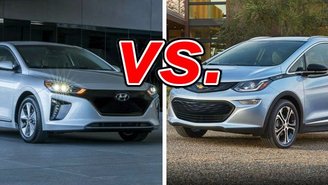 Gone are the days when owning an electric vehicle meant you had to be an environmentalist or pioneer. There's no experimental feel to the Hyundai Ioniq Electric or Chevrolet Bolt. These are practical hatchbacks with the features and driving characteristics that most buyers want.
Which example of mainstream EV technology impresses us more?
See a side-by-side comparison of the Ioniq Electric & Bolt EV »
What the Ioniq Electric Gets Right
The Ioniq is powered by a an electric motor that produces 120 horsepower and 215 lb-ft of torque. A single-speed automatic transmission delivers power to the front wheels. With the lithium-ion battery pack fully charged, the Ioniq is rated to travel up to 124 miles, which beats most EVs in its price class. According to the EPA, the Ioniq is the most efficient EV you can buy, using just 25 kWh of power for every 100 miles driven.
Recharging a fully depleted battery takes about 4.5 hours on a 240-volt charger. However, the optional fast-charging port restores 90 percent of charge in just 33 minutes.
In addition to its efficiency, the Ioniq is an accommodating hatchback with room for four adults to travel comfortably, along with 26.5 cubic feet of cargo. That amount nearly doubles with the rear seat folded.
What the Bolt Gets Right
The Bolt's electric motors produces a stout 200 horsepower and 266 lb-feet torque. That makes it significantly quicker than the average gas-powered hatchback. The Bolt also uses a single-speed transmission, but features a Drive mode that make it respond just like a conventional automatic. On a full charge, the Bolt is rated to travel up to 238 miles. You'll need a Tesla to best that.
A full recharge takes 9 hours on a 240-volt charger (although the average commuter could get by recharging from a standard plug overnight). Thankfully, the available fast-charging port provides 90 miles of range in 30 minutes.
The Volt feels positively spacious inside, with head room to spare and a virtually flat floor. Cargo space tops out at 56.6 cubic feet with the rear seat folded, on par with many small crossovers.
The Cure for Range Anxiety
If there's one obstacle to EV acceptance, it's fear of running out juice away from home. The Ioniq reduces range anxiety somewhat, but the Bolt eliminates it in daily driving. With 238 miles to go before the next charge, most drivers can go about their business without worry.
Our Verdict: Chevrolet Bolt
The Bolt has a better shot at changing the way Americans think about EVs.
Take a closer look at the Hyundai Ioniq Electric »