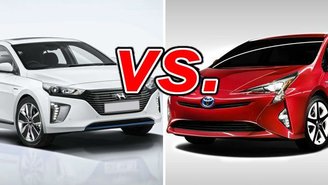 The Hyundai Ioniq Hybrid debuted last year to take on the long-reigning king of hybrid vehicles, the Toyota Prius. Both hatchbacks display imaginative design, a versatile interior, and — above all — exceptional efficiency.
Is the Prius still the benchmark of this class, or has it been edged out by the Ioniq?
See a side-by-side comparison of the Ioniq Hybrid & Pius »
What the Ioniq Hybrid Gets Right
Buyers naturally expect strong efficiency from a hybrid, a fact that Hyundai really took to heart when developing the Ioniq. The base model is EPA-rated at 58 miles per gallon in combined city and highway driving. The upper trims are rated at 55 mpg combined (Buyers seeking ultra-high efficiency should check out the plug-in versions of both the Ioniq are Prius).
Power comes from a 1.6-liter four-cylinder gasoline engine and a 32-kilowatt electric motor, fed by a lithium-ion battery. Total output is 139 horsepower. Unlike most hybrids, the Ioniq uses a conventional six-speed automatic transmission, rather than a continuously variable transmission.
The Ioniq can carry up to five passengers along with 26.5 cubic feet of cargo. With the rear seat folded, cargo space nearly doubles.
What the Prius Gets Right
The Prius's proven hybrid system consists of a 1.8-liter four-cylinder gas engine and two electric motors. One of the motors doubles as a generator to keep the lithium-ion battery pack charged. As in previous years, this setup develops 121 hp, funneled through an electric variant of a CVT.
Most Prius models achieve 52 mpg combined, according to EPA estimates. The Eco trim level, which gets special tires and a lighter battery pack, is rated at 56 mpg combined. The Eco also provides a touch more cargo space behind the rear seat — 27.4 cubic feet versus 24.6 in the other models.
Some hybrids throw off odd mechanical noises at times, but not this one. The five-passenger cabin is exceptionally quiet.
Is the Ioniq a serious challenge to the Prius?
Buyers who prize efficiency will continue to flock to the Prius for its well-earned reputation for reliability. There's certainly nothing experimental about the Ioniq's hybrid technology, but it hasn't had time to prove itself in the hands of millions of driver. What we do know for sure is that the Ioniq tops the Prius in efficiency by a small but not insignificant margin.
Our Verdict: Hyundai Ioniq Hybrid
Efficiency counts more than anything in this class, which is why the Hyundai gets our nod.
Take a closer look at the Hyundai Ioniq Hybrid »