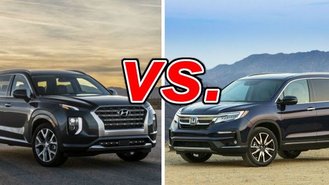 Hyundai bolsters its standing in the three-row crossover market with the all-new Palisade, a capable family hauler with upscale accommodations. The Palisade gives Hyundai a direct competitor to the long-running Honda Pilot, a large crossover known for its space and efficiency. Is the Palisade a better choice, or does the Pilot still rule the day?
See a side-by-side comparison of the Palisade & Pilot »
What the Palisade Gets Right
The Hyundai Palisade offers plenty of space. There's a healthy 18 cubic feet of space behind the third row, 45.8 cubic feet behind the second row, or 86.4 overall. The Pilot offers 16.5/46.8/83.9 cubic feet.
Additionally, Hyundai has made a sizable investment in the Palisade's interior. Materials are a clear cut above what we expect in the class, and it all fits together precisely. Nearly every surface looks and feels just right. Passengers might think they're stepping into a luxury car.
Buyers looking for more power between these two will want the Palisade. The Palisade's sole engine is a 3.8-liter V6 that develops 291 horsepower and 262 pound-feet of torque. The Pilot's 3.5-liter V6 only makes 280 hp.
The Palisade also gets a standard 8-inch touchscreen, which easily bests the Pilot's base 5-inch unit. You have to move up to the $35,525 Pilot EX to get an 8-inch touchscreen in the Honda, which is $2,880 more expensive than the base Palisade.
What the Pilot Gets Right
The Honda Pilot bests the Palisade in terms of versatility. It's available in six trims, compared to just three for the Palisade. Buyers can choose a level of specification that's to their liking across a wider price range when they opt for the Pilot.
The Pilot also wins out slightly in the fuel economy department. It earns an EPA-estimated 19 miles per gallon city, 27 mpg highway, and 22 combined with its six-speed automatic transmission, or 20/27/23 mpg (city/highway/combined) with the available nine-speed automatic. The Palisade achieves 19/26/22 mpg.
What's the Difference?
The Hyundai Palisade and Honda Pilot could pass for twins on paper. Buyers will notice very little difference in room, capability, efficiency, or features (outside of the Pilot's base trim). What will stand out is the Palisade's high-quality interior. Other crossovers in this class simply aren't as good on the inside.
Our Verdict: Hyundai Palisade
The Hyundai Palisade's luxury-caliber cabin and better standard equipment give it an advantage over top-tier competitors like the Honda Pilot.
Take a closer look at the Hyundai Palisade »